Zipporwhill
is a filly earth pony who lives in the
Zipporwhill's Home
in
Ponyville
. She was added in the
Everfree Forest update
.
Trivia
Zipporwhill appears as an earth pony in game despite being a pegasus in the show.
In the Amazon Underground version, she is a reward for completing the tutorial along with Cheese Sandwich and Toe-Tapper. But due to the game being updated, she was no longer made available during the tutorial.
Balloon Pop
Collection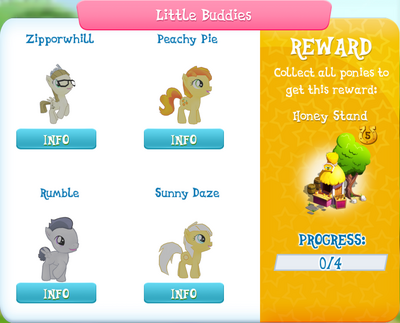 Gallery
Characters

‌

Mane Six (The Elements of Harmony)
Ponyville (506 Characters)
Canterlot (144 Characters)
Sweet Apple Acres (114 Characters)
Crystal Empire (51 Characters)
Klugetown (40 Characters)
Unknown Location(N/A)

N/A

Other
Non-playable
Removed
Unimplemented/Unreleased
Community content is available under
CC-BY-SA
unless otherwise noted.