Jurassic World: Dominion Dominates Fandom Wikis - The Loop
Play Sound
Current Version
| IOS | Android | Current Update |
| --- | --- | --- |
| 6.6 (October 13, 2020) | 6.6 (October 13, 2020) | Update 6.6 |
Past Versions
Update 1 (3)
Update 2
Version 1.1 - Hearth's Warming Eve
Released on December 20, 2012(IOS)/January 4, 2013(Android).
Patch notes
Meet New Ponies: Make friends with Pipsqueak, Teacher's Pet, and Bowling Pony.
New Buildings: Get Cozy in the Log Cabin, and treat yourself at the Ice Cream Shop!
New Decorations: Add a merry touch to Ponyville with five seasonal items
Snow everwhere: See your buildings and all of Ponyville covered in white. After all, what's winter without snow?
Holiday Quests: Enjoy 10 special holiday missions full of joyful adventures!
Bug fixes and system optimizations.
Christmas-themed expansion - winter theme applied to Ponyville with snow on the ground, buildings, and objects

New ponies
New houses
New shops
Update 3
Update 4
Released on April 15, 2013.
Expansion to a second region - Canterlot
Storyline refers to the wedding of Twilight's Brother, Shining Armor and Cadance
New Quests
Level Cap increased to 70.
Reconfiguration of Menu Scroll - Shops now show as a separate button on lower right hand of screen
Store now has 2 tabs on each section - One for Ponyville, one for Canterlot
Store now has a separate section for items on sale
Train station appears on top of Ponyville that leads to Canterlot
New Ponies
Update 5
Canterlot Theater (C) - (500 )
Ponyville Theater (P) - (500 )
The Theater can be used to watch trailers for other Gameloft games. Each trailer awards 2 gems after being watched for the first time.
Octavia and Aunt Orange are moved from Ponyville to Canterlot
Gem and Heart prices are lowered for most ponies, shops, and decorations and the Ballon Pop Game (down to 10 )
Fixes the issues with the end of the quest line in Ponyville to get Luna (should appear in Inventory)
New tab in the Store: What's New (displays all new items added in the update)
Update 6
Lotus Blossom (C) - (70  )
Aloe (C) - (50 )
Masseuse Pony (C) - (80,000  )
New decorative buildings
Redesigned Ball minigame
Fixes issues with Luna (should now always have 5 stars)
Option menu has been slightly reworked, there is now a button to exit the game.
Update 7
Update 8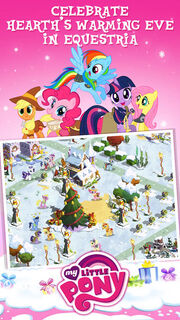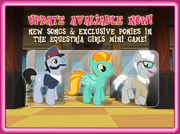 Released on December 9, 2013.
Winter theme in Ponyville and Canterlot
Hearth's Warming Eve items in Ponyville shop
Quest Log changed appearance.
Menu Scroll changed appearance.
New ponies
Equestria Girls Minigame updates:

New songs

Cafeteria Song (Level 3 difficulty)
Time to Come Together (Level 3 difficulty)

Implemented social features: compare scores with Gameloft friends and add friends to dance during a game session for a higher score
Reduced points necessary for winning the final prize
Improved touch sensitivity in game (green pair notes can now be hit easier)
Earn +1 for sharing score after a dance session
Increased score per note for higher difficulty songs.

Update 1.7.1
Released on December 12, 2013.
Mane Six ponies wear their respective Hearth's Warming Eve play costumes
Derpy now spawns inside a large gift box
Some prices of Ponies have been dropped.
New ponies in Canterlot
New shops in Canterlot
New decor for Canterlot (Hearth's Warming Eve exclusive)
Update 1.7.2
Released on February 12 2014.
Mane Six no longer wear their costumes.
Valentines Day items in Ponyville and Canterlot shop.
Derpy's box is normal again.
Ponyville and Canterlot are no longer snowy.
Quest Log changed appearance.
Menu Scroll changed appearance.
New decor for Canterlot
New Ponies
Update 9
Update 10
Released on June 4, 2014.
New area, Sweet Apple Acres, with a number of new ponies

Several ponies and shops related to the Apple Family are moved from Ponyville and Canterlot to Sweet Apple Acres
New quests available for this area.

In addition to the ponies added in Sweet Apple Acres, several ponies are added in Ponyville and Canterlot
The Mine Cart minigame can now be accessed from an icon on the bottom left like the Equestria Girls dance
New type of rewards: Events

Events are timed objectives (ranging from one day to one week) which offer up to three rewards depending on how far you can fill the meter within the time limit. The final reward can be some of the new ponies or decorations, lesser rewards can be bits, shards, hearts or wheels.

Level Cap increased to 80
New travel interface allowing you to choose which area to travel to, with icons showing if an area has active quests (number in the icon) or shops to collect from (icon showing a coin).
Update 11
Released on October 6, 2014 (October 13, 2014 on Android)
Parasprite spawn duration increased

Parasprites and Vampire Bats no longer spawn large numbers of a single color.

Leaderboard changes
Score increased per note in Equestria Girls mini-game
Crystal Mine Game bug fixes
Level cap increased to 85
Thai and Arabic languages are now supported
UI changes
Unexpanded lands are now darker
New ponies
Update 12
Released on December 11, 2014 (IOS).
New area, Everfree Forest, with a community event on saving the Tree of Harmony
Added cloud save feature
Level Cap increased to 90
18 new winter Decorations
12 New Ponies (Though 16 appear in the Albums)
Plunderseed vines on buildings and some decors for Ponyville and Sweet Apple Acres only
Added new features in the Magic Wings game
Free King Sombra that lives in Canterlot as a 2nd anniversary gift
Added global Leaderboards
Princess Twilight Sparkle's crown updated to match the one she wears for most of Season 4.
Quest chains for the Everfree Forest
New minigame: Zecora's Hut for making totems that generate Element Shards.
Update 2.1.1
Released on December 24 2014
New Winter Decorations
Snow in Poyville, and Canterlot
Quest Log changed appearance
Menu Scroll changed appearance
Bug fixes
Update 13
Released on March 13, 2015 (on Android)
Quest chain featuring Chest of Harmony and Lord Tirek, rewarding players with Twilight Sparkle's castle
6 new ponies

Ponyville
Canterlot
Sweet Apple Acres

3 new shops that can employ up to five ponies each

Ponyville
Canterlot
Sweet Apple Acres

Expanded Canterlot map
Eclair Crème's eyes design updated to match her album image
Update 14
Released on April 21,2015
Dragon fighting event rewarding players with sapphires , a new currency to spend on ponies, shops and decor
Level cap increased to 100
Removed Gameloft Live and other social media connections to comply with online child safely regulations.
Added Twitter4j Twitter API packages in game files.
Event-exclusive Balloon Pop mode (500 , replaces Social Lottery)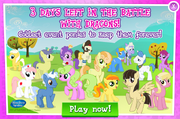 15 new ponies available during event

Ponyville
Canterlot
Sweet Apple Acres

New five-pony shops

Canterlot
Sweet Apple Acres

Friendship Lake decor item (500 )
Update 15
Update 16
Released on September 24, 2015 (on iOS), October 1, 2015 (on Android)
Reworked login rewards system
Rebalanced level progress (i.e. new unlock levels)
8 new ponies

Ponyville
Canterlot
Sweet Apple Acres

New shops
New decorations
Update 17
Released on December 14 2015 (iOS) and (December 15, 2015 for Android).
New Game Features

Discord talks in game
Level cap is 115
New interface for differing local/cloud saves (insert picture)
Easier Player Reporting System

Event Leaderboards: report player by clicking on their icon
Social Friends: report player by clicking red button after clicking name

Gameloft Live is removed from all regions
Watching videos has returned (to earn Free Gems, play 2x minigames, etc.)
Leaderboard Trophy icon has moved to the Scroll
iOS game controllers are now supported

New Ponies

Ponyville
Canterlot
and more

New 5-pony Shops "Just in time for Holiday Shopping!"[2]

Ponyville
Canterlot
Sweet Apple Acres

New High-Flying Decorations
The Carousel Boutique is Now Open For Business

New Boutique building is located on the maps of Canterlot and Ponyville, between EG Mirror and Train Station
New Boutique link icon added to lower left menu (replaces Leaderboard Trophy)
Dress up your Mane Six with custom costumes, accessories and hairstyles.

Purchase raw sewing materials ("Get More"--3 random materials from boxes--for 5 gems)
Craft new costume items from various amounts of materials
Each costume change costs various amounts of Bits
Mane Six ponies can vary their looks in one or all three areas

Head: Hairstyle or mane changes; added accessories
Body: Outfit may include footwear, clothing, and/or outerwear (cape)
Tail: Tail style, length, and/or color changes; added accessories

Complete costume outfits provide bonuses during gameplay when worn.

Increase total points earned during crystal mine game
Increase bits income earned from shops
Increase points scored while earning five stars
Update 18
Released February 17, 2016 (iOS), March 1, 2016 (Android).
Level Cap increased to Level 120
VIP SYSTEM: Unlock bigger and bigger rewards for reaching higher VIP status levels!

VIP points currently require real money
Store added new special VIP tab

REFER A FRIEND: Bring your friends to Equestria to earn awesome rewards!
NEW CONTENT: Meet more new ponies in town and check out amazing new shops and decorations.
DAILY REWARDS EXTENDED: Will you be able to get Jigging Clownspony as a reward?
New Ponies

Sweet Apple Acres -- If you are a fan of horsing around, you are as excited about Clownsponies as we are!
Canterlot
Griffons Are on Their Way! Did you know that Gilda the Griffon, an old friend of Rainbow Dash, can fly and stand on clouds? Gilda and her friends were so impressed by the beauty of Equestria that they decided to take a detour on the way to Ponyville! They will join the party really soon!
Update 19
Released April 13, 2016 (IOS)/ April 14, 2016(Android)
Time to party, everypony! Team up with friends to make the biggest bash Ponyville's ever seen in new limited-time co-op events!
-What's New-
PONY PARTIES: Get together with other players and prepare to raise the hoof!
RAVE REQUESTS: Help the ponies have a blast by completing party quests.
CELEBRATION DECORATIONS: Adorn your Ponyville in festive style with 5 new shops and over 40 new decorations!
BLOWOUT REWARDS: Win shops, resources and decorations.
SPREAD THE FUN: You're gonna need more space to fit all this content -- enjoy new land expansions added to your Ponyville!
New Characters

Shops

Notes
Speed of Mine Cart game seems to have increased, leading to players easily crashing into double barrels at end of dips.
If the video button for clothing materials does not appear, switching to a different pony might make it appear. Some players have reported the removal of the video button in Rarity's Boutique, whilst others still see it. Could be by region/join date.
Update 20
Released June 9, 2016 (IOS) / June 17, 2016 (Android)l
The extraordinary Fashion Show Event has come to My Little Pony! Join the fun and dress up the Mane Six ponies for amazing rewards!
What's New
Event

You now need to press participate before you can have any progress saved on an event (Social/Special/Solo).
Amount of players per server for Social/Special has been increased.
Other

Expansion Zones are now lighter and blends in with the surrounding.
Equestria Girls mini-game song timers were cut down to a shorter cool down.
Level Cap has been raised to 130.
Fashion Show has been added to the Collection Book.
The Train Map has been zoomed in.
Ponyville icon on the Train Station has changed from the Town Hall to. Twilight's Castle (there may be a glitch for some that the Town Hall is still the icon).
Update 21
Released: August 3, 2016 (IOS) / August 3, 2016 (Android).
Time for the spectacle, time for the show!
Equestria's #1 Pony-Star is coming to the My Little Pony game!
What's New

Welcome... Countess Coloratura!
NEW QUEST LINE: Enjoy an amazing new quest line based on one of the TV show's most popular episodes, complete tasks and get Rara!
COLLECT TOKENS: Use the tokens to unlock Countess Coloratura, Svengallop, Coloratura's dancers, and others!
ASTONISHING BUILDINGS & DÉCOR: New Big-Apple Stage, Countess's Chariot and other amazing shops and decorations!
Other Changes

New land expansions in Sweet Apple Acres.
Mane 6 can do individual tasks now but will be taken out of work to do it.
Album Image got changed to a new look.
Pressing Assign in an album page will auto assign them to a shop.
Due to legal regulations Link A Device feature was removed.
Other Pony Tasks

Countess Coloratura

Rehearse a new song (3h)
Dance with Half Baked Apple (4h)

Svengallop

Review the contract (4h)
Inspect the Orange Stand for brand synergies (7h)
Order Sprinkle Stripe around (8h)
New Ponies

Ponyville
Sweet Apple Acres
Canterlot
Other Ponies
Shops

Canterlot
Sweet Apple Acres
Update 22
Released: September 28, 2016 (IOS/Android).
The Crystal Empire's sparkle-riffic light is shining all across Equestria! Ride the Friendship Express to this icy new city and collect Snow Globes to go on breathtaking adventures!
WHAT'S NEW

NEW LOCATION: Bask in the glory of the Crystal Castle and build many magnificent new buildings & décor.
CRYSTAL PONIES: Welcome adorable, sparkling friends to your kingdom.
CRYSTAL FAIR QUEST: King Sombra is looming outside the Crystal Empire. Renew the spirit of love and unity, and protect the Empire!
Other Changes

You can now scroll up the map(Train Station)
New Collections
Materials can no longer be won in Equestria Balloon Pop
Level raised to 140
King Sombra is no longer in Tricksters collection
You get a loading screen when leaving the Balloon Pop
Shops can produce Snowglobes
Horticultural Pegasus can now be obtained at VIP Level 1(Was at VIP Level 2)
---
(Downloads when you start the game, so no update from the store)
Update 3.1 Quick Update (Nightmare Night)
Released: October 24, 2016 (IOS/Android).
Update 23
Released: November 29, 2016 (iOS) / December 1, 2016 (Android).
Hey, everypony! An awesome My Little Pony update is here!
---
(Downloads when you start the game, so no update from the store)
Update 3.2 Quick Update (Hearth's Warming)
Released: December 16, 2016 (IOS/Android).
Update 24
Released: February 8, 2017 (iOS/Android).
What's New

New Limited-Time Mega Events in Equestria!
WEDDING BELLS ARE RINGING!: Meet Cranky Doodle, his beloved bride Matilda, and new pony friends! Steven Magnet's Hair Salon, the DJ Booth & the Wedding Cake will help you prepare the perfect wedding for this most magical day!
NEW CHARACTERS: Introducing the Donkeys. Create the perfect Equestrian wedding with the amazing citizens of Equestria.
NEW BUILDINGS: Doctor Hooves' Lab, Symphony Hall and the incredible Steven Magnet's Hair Salon will add the kind of charm that only a wedding can bring!
NEW DÉCOR: The beautiful Wedding Cake and DJ Booth are sure to entertain your guests... If the Bugbear Statue doesn't scare them off first!
Tap the mysterious new structure to begin your newest adventure in Equestria!
Other Changes

Equestria Girls portal got moved (By the Crystal Mine Game in Ponyville & Crystal Empire, By the Castle in Canterlot).
A Camp tent has been added in all towns that is used for the Amazing Adventures.
A shop to get into the gems & bits store took the spot where the Equestria Girls portall was at in Ponyville, Canterlot, & Crystal Empire and it is also in Sweet Apple Acres by the train station.
Snow has been removed.
Hearth's Warming 2016 Quests has been removed.
Derpy only spawns once a day.
Cider Mill had once been 40 ,but now changed to 70 .
Album to characters has been modified
Chance bar for tokens drop rate changed looks.
Bowling Alley is once 30,000 ,but now 2,000 .
Honey Stand is now unavailable in the Store.
About half of Canterlot Ponies disappears in the Store (Savoir Fare, Distinguished Pony, Dapper Pony, Compass Star,and Jet Set).
Update 25
Released: March 9, 2017 (IOS)/March 10, 2017 (Android).
What's New

Hungry for adventure? Daring Do is rushing to your Equestria with a new Mega Event based on the exciting"Stranger than Fan Fiction"episode from the show.Uncover ancient mysteries sand become a true treasure hunter.
NEW CHARACTERS: Explore new friendships with Quibble Pants, Muffins, and  other fans from the convention.You may even have a run in with the nefarious Dr.Caballeron and his goons!
NEW BUILDING: Build your own Temple of Chicomoztoc and Caballeron's Camp.
NEW DÉCOR: Add cool decorations,including the awesome

Sapphire Stand

and the frightening Cipactli to plunge yourself into the adventure!
But hurry! Wait too long and all this cool stuff will become just a work of fiction...
New Decor

Sapphire Stand

Lion Banner
Update 26
Version 3.5 Released: May 11, 2017 (IOS) / May 12, 2017 (Android)
Queen Chrysalis and her Changelings are back, and not even the Mane Six can stop them! In this most desperate situation, the most unlikely team of ex-villains team up...
Join Starlight Glimmer, Trixie, Discord & Thorax the reformed Changeling to save your Equestria!
WHAT'S NEW

NEW STORYLINE: Enjoy the Sunset Festival and stop Queen Chrysalis's invasion in a thrilling adventure based on the Season 6 finale, "To Where and Back Again".
NEW MAP: Explore the dangerous Changeling Kingdom, a new location where magic doesn't work. You'll have be extra resourceful and smart to rescue your friends and defeat Queen Chrysalis!
27 NEW CHARACTERS: Help the Changelings morph into their beautiful new form so you can welcome them to your town, along with Thorax, an adorable Griffon and more!
NEW BUILDINGS & DÉCOR: Beautify your Sunset Festival with flags, banners and more. There are also 2 cute new shops, including Discord's Pumpkin and Trixie's Wagon.
Other Changes

The entire game received a visual overhaul. Many elements on the main screen were relocated and/or removed, while many individual features had a new interface. Update 3.6 finishes the overhaul with a new look for the Balloon Pop mini-game.
All pony and decoration prizes in all Balloon Pop games now award an extra 50 .
Upon arriving, a pony can now play the Ball Bounce mini-game immediately.
The last 30 seconds of a timer can now be skipped for free.
New Collections for ponies that previously appeared in the Golden Horseshoe Hotel.
All locations, except for the Everfree Forest, can now be zoomed out further and zoomed in closer.
Dirt paths are now free and no longer give experience. They're now accessible through a button in the upper left corner of the editing menu.
Update 27
Version 3.6 Released: June 16, 2017 (IOS) / June 19, 2017 (Android).

It's time to team up with the Cutie Mark Crusaders in a new limited-time Mega Event! Team up with this trio of cutie mark seekers to help ponies as they seek their own Equestria destinies.
WHAT'S NEW
NEW MEGA EVENT: Accomplish a series of Pony Tasks based on the episode "Crusaders of the Lost Mark" from the My Little Pony show and earn amazing rewards!
24 NEW CHARACTERS: Give a warm welcome to Rainbow Dash's #1 fans: her mom and dad. You can also meet many new schoolponies and other friends!
NEW BUILDINGS: Add the cutest Pet Shop, Perfume Shop, Art Supply Shop, Candy Machine and more to your town!
NEW DÉCOR: Beautify your Equestria with the Schoolponies' Castle, Topiary, Rainbow, cool Go-Karts and other decorations!
Update 28
Version 3.7 Released: August 2, 2017 (Android/IOS)

Hear that? It's Songbird Serenade! An awesome new pony straight from My Little Pony: The Movie, filling your Equestria with her beautiful voice!
WHAT'S NEW
NEW LIMITED-TIME STORY: Play cool quests and help prepare your own Friendship Festival!
19 NEW CHARACTERS: Welcome Songbird Serenade, her bodyguards and more!
NEW BUILDINGS: Build a cool stage and beautify your Ponyville with Festival Tents.
NEW DÉCOR: Friendship Banner, Dance Floor, Party Wagon and more cool decorations!

Other Changes
You can no longer skip for free in the last 30 seconds
Button Mash's name got changed to Game-Playin Schoolpony
You can now collect from tasks from Mane Six even when you aren't in the same town they are doing the task in
You can now press an X button for stuff in your social Inbox
Clear the sky has been removed but points earn in mini-game will be carried over to the next star
New Characters
New Shops
New Decor
Update 29
Version 3.8 Released 8th September 2017.
WHAT'S NEW
NEW LIMITED-TIME STORY: Why did Tempest Shadow suddenly appear in Ponyville? What are her true intentions? Only you and The Cutie Mark Crusaders can find out and defeat Ursa Minor in "Story of a Storm."
22 AWESOME NEW CHARACTERS: Welcome Tempest Shadow and her childhood friends, plus many more adorable ponies including some cool yaks from the latest season of the TV show!
11 NEW BUILDINGS: Dig a Spooky Cave and brew up a Potion Workshop for this limited-time story event! You can also build a colossal Coliseum, a cute Shroom Shop, a terrific Terrarium and more!
8 NEW DECORATIONS: Make your town even more magical with the Shady Bushes, Yak Guardians, Yak Fire Pit, Rainbow Falls and other awesome additions!
Other changes
The Cutie-mark Crusaders can be seen in all location except Everfree Forest.
New characters
New Shops
New Decor
Yak Guardians
Apple-Pear Tree
Update 3.9
Other Changes

Augmented reality studio, added on 21st Sept but requires iOS 11 update and A9 chip device in order to work.
Update 30
Version 4.0 Released 5th October 2017.
WHAT'S NEW
NEW TOWN AHOY! Explore rustic Klugetown, home to aquatic creatures, feline friends, and many more unique characters, as you restore its districts to full glory.
A SWASHBUCKLING NEW STORY: Join the Mane Six on an exciting limited-time journey through foreign lands to recruit Capper the cat and the Pirate Parrots to help sail your way to victory!
EXOTIC NEW CHARACTERS: In addition to more great ponies, you'll meet Capper the charismatic cat, the mighty Storm King, Hippogriff Princess Skystar and the many unique Klugetown citizens!
MORE BUILDINGS: Build up your Klugetown with great locations from the movie and more, including Resistance HQ, Smugglers' Den, Dusty Mill, Klugetown Bazaar and Adventurer's Emporium. Oh, we didn't forget about your Ponyville either, so check out Trixie's Stage to make that place even more magical!
FRESH DECORATIONS: Give your Klugetown that seafaring feel with the Pirates' Skiff, Pirate Flag, Abyssinian Figurine, Palm Grove, Market Tents, Lighthouse and Pirates' Chest.
Other changes
Current Map change to official My Little Pony 2017 movie map and you can select town on the menu below.
Equestria Girls mini-game bonus has changed. All boost is now 10, 20 and 100% instead of 2,4 and 8 and the highest cost is 15 for 100%, 5 for 20% and 2000 for 10%.
Mane 6 pony task that requires another pony in another place can now travel along.
You can straight away assign characters to do special tasks without having to worry about them being "unassigned". Eg, Twilight can visit Forsythia while both of them still work at Joke Shop.
Clear Sky Balloon pop has been replaced by Klugetown Balloon pop.
Crystal Mine Game prices has been increased including upgrades but multiplier has been increased from 4 to 10x but price has increased to the Window version of 5 and 12,000 for 2x. Amount of Wheels have been decreased from 5 to 3.
Starlight Glimmer now also appear in Ponyville and lives in the same location as the cutie mark crusaders.
In Crystal Mine Game, you can now get any element shards regardless of distance.
iOS game crash fix.
Special Clear the Skies event returns along with it's energy system.
New Characters
New Shops
New Decor
Klugetown

Lighthouse
Palm Grove
Pirate's Chest
Market Tents
Round Cactus
Tall Cactus
Pirate Flag
Palm Tree
Halloween Quick Update

Released: October 27, 2017
New Characters
Update 31
Version 4.1 Update 4.1 was released on 6th December 2017 to once again celebrate Hearth's Warming Eve. The update introduces Pharynx the changeling and his metamorphosed counterpart, as well as new hippogriffs and ponies, plus two new events and several major changes.
What's New (Official announcement)
Changes
24 new characters added.
Star Mastery system added, which awards prizes to the player for reaching certain sums of character stars.
The cost to play mini-games has increased tremendously (up to 69,000 or 20 ), but the multipliers has also been increased (up to 150x). These costs and multipliers also seem to scale with player level progression.
The shop system has been revamped:

Shops no longer need to have ponies assigned and they automatically produce the cheaper item (this apparently cannot be changed). As a result, pony costumes that used to reward extra bits from shops now gives bonuses on pony tasks instead.
Gem shops produced more gems overall during the first days of the update, but as of the first event patch on December 8th, they were heavily nerfed to produce even less gems than before Update 4.1. This has been later reverted as of December 13th. 

A shop count is now available in the Profile page.
Starlight Glimmer, Sweetie Belle and Scootaloo now live in Ponyville.
Several characters have their models improved, including Starlight Glimmer, Princess Celestia, Nightmare Moon and Daybreaker.
Some character names have changed to the ones seen in the mane series. (See the list below)
Name Changes
New Characters
New Shops
New Décor
Update 32
Version 4.2 Update 4.2 was released on February 10th 2018 in celebration of Hearts and Hooves day.
What's New (Official announcement)
The Campfire Tales continue with the magical Legend of Mistmane! Spread true beauty throughout your Equestria by downloading this update full of new ponies, buildings and decorations now. You're also sure to fall in love with all the new Hearts & Hooves Day content as well!
LEGENDARY PONIES: Bring the story to life by adding Young Mistmane, Sable Spirit and many other ponies from the campfire story to your town.
BEAUTIFUL BUILDINGS: The Imperial Bazaar, Cruise Zeppelin and the Hearts and Hooves Bistro are just some of the new buildings you're sure to fall for.
LOVELY DECORATIONS: With decorations like Sable Spirit's Carriage, Twin Dragons and the Romantic Bouquet, you'll be able to spread beauty like Mistmane herself!
Changes
The pony album is now interactive. Similar to the Pony Editor, you can turn the character on the page around, and if the player taps on a pony, that pony would do an animation (along with dialogue if available).
The coin icon has reappeared on the map, noticing the player if there are shop products ready to collect in the location.
Leveling up characters now give various rewards for every single star that the player collects. Possible prizes include , , boutique materials, minecart wheels and Lucky Coins (for use in the Klugetown Balloon Pop).
Swiping across the location is slower than it was before.
When tapping on a clearable objects, the screen turns light green except for the object. This is likely to highlight the object and prevent accidental taps.
The buttons for placing paths are now placed above the inventory bar in Edit Mode, instead of appearing in a separate screen.
In the gem store, players have the option to buy the gems available in a "piggy bank" which collects gems as the player levels up and spend gems but the price will not change regardless. Once purchased, it can be refill back up again. For example, if you purchase a character with gems, a percentage of gems used will go into the "piggy bank" and this would goes on endlessly until brought.
The time it takes to create totems in Zecora's Hut has reduce significantly along with time to collect shards from totems.
Clicking and holding on a placed object (Decor or a Shop) will cause the screen to go green and a set of arrows to appear centered on the object. After a few seconds will enter edit mode directly and allow the object to be moved, sold, or stored in inventory.
The Boutique was updated to increase the Material costs by about 50% for crafting costume pieces.
New Characters
New Shops
New Décor
Quick Update
The Quick Update was done on the loading screen when you entered the game on March 2, 2018. It added 9 new characters and 1 new shop.
New Characters
New Shops
Quick Update 2
The Quick Update 2 was done on the loading screen when you entered the game on March 23, 2018. It added 16 new characters and 4 new shops.
New Characters
New Shops
Update 33
Version 4.3 Update 4.3 was released April 30th 2018.
Quests just got a whole lot BIGGER! Now you can send not one, but a whole team of your best & brightest ponies on an adventure with Group Quests. And to kick things off, you'll set off for six new missions of friendship! Plus, there's lots of new pony friends to meet and buildings to add to your Ponyville!
What's New (Official announcement)
GROUP QUESTS: Pick a pack of ponies to set off on an epic journey for possibly huge rewards. You'll even help them along the way by making tough decisions to solve unexpected situations!
NEW PONIES: Meet Abyssinian King & Abyssinian Queen, Queen Cleopatrot, Canterlot Night Guard and more!
MORE HOUSES: Your ponies will feel right at home with the Royal Legion's Barracks, Ritzy Boutique, Buckball Field and other awesome abodes.
FRESH DÉCOR: Deck out your town with the latest in decorations, like Dr. Hooves' Timebox, Ambassadors' Airship, Cloudsdalian Tapestry, Daybreaker's Throne and much more!
Download the update now to join this amazing new adventure!
Changes
More expansion zones added for Sweet Apple Acres.
When clearing removable objects, skip option appear straight after spending.
New loading screen with random texts appearing above the bar.
Pay Gems to get Special Bundle.
Collect Crystal Coins for Magical Balloon Pop.
New layout for permanent quests.
Most Removable objects now have a reduced time under 1 hour while some has an increased time.
Motion blur can be seen when swiping through the inventory while in edit mode.
Princess Luna model enchanced similar to Princess Celestia.
30 seconds skip returned despite implemented in update 3.5 before removed in update 3.6.
New Characters
New Shops
New Décor
Quick Update
The Quick Update was done on the loading screen when you entered the game on May 19, 2018. It added a number of new characters.
New Characters
New Shops
Update 34
Version 4.4 Update 4.4, was released on Tuesday, June 12, 2018.
A new chapter is taking flight in the latest update to My Little Pony! Embark on a heated adventure with your favorite dragon, Spike, based on the show's new episode, "Molt Down." And collect a hoard of fresh content to help your Ponyville take off!
WHAT'S NEW
ITCHING FOR ADVENTURE Spike's come down with a strange and scaly condition, and he needs everypony's help to cure it! But is this a sickness, or the start of something new for our dragon friend? Find out in this exciting (and limited-time) story quest!
FIERY NEW FRIENDS Meet Smolder, Mina, and a whole den of dragons ready to roost in your Ponyville!
NEW DECORATIONS Discover a treasure trove of new buildings and decorations, including the Dragonscale Armor Stand, Spike's Coverup Costume, and the Dragon Lord's Crown!
Changes
Available prizes shown in group quest rewards instead of all prizes.
Every appearance of Spike in any objective's screen will henceforth show him having wings.
Update 35
Version 4.5 Update 4.5, released on Wednesday, July 11, 2018.
My Little Pony is all about exploring the power of friendship – a power that players will put to the test in the upcoming School of Friendship event!
This limited-time story picks up where My Little Pony: The Movie left off. The map of Equestria has practically doubled in size, which means the pony world is now filled with new creatures who all have yearning for learning about the magic of friendship – creatures like dragons, hippogriffs, changelings, yaks, griffons, and even new ponies! Luckily, no one knows Friendship like the Mane 6!
WHAT'S NEW
NEW LIMITED-TIME STORY Join Twilight Sparkle and friends as they build and open Ponyville's brand new School of Friendship, where EVERYPONY is welcome – even if they're not a pony at all! Each section of the story closely follows an episode from the 8th season of My Little Pony: Friendship is Magic – all the way up to the Cutie Mark Crusaders' appearance as official Friendship Tutors.
MEET NEW CHARACTERS Get 'accredited' by the Equestrian Education Association and acquaint yourself with the new students: Yona, Terramar, Silverstream and many more!
MORE BUILDINGS Expand your Ponyville (and a few minds) with the School of Friendship, Hippogriffian Embassy and Faculty Housing to make your place even more magical!
COOL DECORATIONS Give your Ponyville a sophisticated new look with the Tower of Friendship, Hippogriff Statues and more! Join the adventure and discover the magic of friendship!
Changes
Shops wait cost shows free instead of 0 gems when below 30s.
Twilight Sparkle can now fly when ascend to Alicorn.
User set under 13 can watch ads to pop an additional balloon.
New Content
Characters
Shops
Quick Update 1
The Quick Update was done on the loading screen when you entered the game on July 27, 2018. It added 7 New Characters and 2 New Shops.
Characters
Shops
Quick Update 2
The Quick Update was done on the loading screen when you entered the game on August 30, 2018. It added 8 New Characters and 1 New Shop.
Characters
Ponyville
Essence Salespony

Bearded Hollowvian

Heritage Baker Pony

Chipper Hollowvian
Shops
Update 36
Version 4.6 Released on Thursday, September 20, 2018 (IOS/Android).
Something cold, dark and dangerous is creeping into Equestria, uniting many enemies of the land for an unspeakable undertaking… But in our darkest hour, Hope springs eternal! Embark on a thrilling new limited-time story based on the amazing My Little Pony comics, and stave off the SIEGE OF THE CRYSTAL EMPIRE!
WHAT'S NEW
As if a the return of Lightning Dust, Iron Will and even Queen Chrysalis wasn't enough to strike fear in everypony, they've teamed up to bring a new villain to power: The tyrannical King Sombra! Though banished long ago, he has returned to claim the Crystal Empire, and you'll need new allies of your own to stop his umbral invasion.
CRYSTAL EMPIRE CHARACTERS
Embrace new faces from The Crystal Empire into your Ponyville, including Princess Amore, Radiant Hope, and the darkly dashing Sombra himself!
Have the Lonely Cabin and Caravan of Hope set up shop in your Ponyville.
Bring a mysterious piece of the Crystal Empire into your town with the Umbrum Sphere, Shadowy Writing Desk, Bust of Sombra and more!
Join the update and keep the light of hope burning bright in Equestria!
9 New Characters, 2 New Shops, 5 New Outfits, & 1 New Collection added
New Content
Characters
Shops
Update 37
Version 4.7 Released on Thursday, October 18 (iOS), 2018, and on Friday, October 19 (Android), 2018.
Some rotten fruit are stirring up trouble in Sweet Apple Acres… Are you brave enough to survive the Night of the Living Apples!? Enjoy this limited-time story event based on the amazing comic, with lots of batty twists on some of your favorite characters!
WHAT'S NEW
A CHILLING LIMITED-TIME STORY
After a magical meteor shower, the apples have come to life, and they're thirsty for conquest! It's up to you to go bobbing for danger with the help of Flutterbat and more vampire versions of the Mane Six in this new Nightmare Night adventure!
Come face-to-fang with Rainbow Bite, Appledrac, plus many more characters for your Ponyville.
Add the Vampire Ponies' Belfry and Apple Encampment for your frightening new friends to live!
The Nightmare Night Corn Maze, Ghost Ship and more will add the perfect seasonal spice!

Get this update and scare yourself filly!
23 new Characters added, 2 new collections, 4 new shops
New

Calendar Rewards

System (from 20 November onwards)
New Seasonal Group Quest + Golden Keys
Changes

New Icons for Minecart & Equestria Girls
Notification screen has a new look
Totems no longer require to be destroyed after usage, but will instantly disappear
Also, while selecting ingredients to make totems and waiting for them to be finished, an icon appears next to the totem selection (to the left) and the totems ready for gathering Shards (to the right, a new icon) for the amount of available totems.
Looks got changed for Nightmare Night (darker grounds and a night sky, decorations in Ponyville, Canterlot, Sweet Apple Acres, and the Crystal Empire; the Crystal Empire's background buildings' windows being lit against an evening sky.)
New Content
Characters
Shops
Gallery
Quick Update
The Quick Update was done on the loading screen when you entered the game on November 8, 2018. It unlocked 8 New Characters and added 2 New Shops, alongside a new Limited-Time Story. It also disabled Nightmare Night mode by removing the decorations and reverting environments back to their default settings.
New Content
Characters
Shops
Other
Kirin Marketplace

Kirin Runesmith
Update 38
Version 4.8 Released on Saturday, December 1, 2018 (IOS/Android).
Where has all the magic gone!? That's the mystery behind this update for My Little Pony, based on the exciting season finale of the show, School Raze. While trying to return your ponies' powers, you can welcome new students to the School of Friendship, and collect lots of new relics and decorations for your Ponyville.

WHAT'S NEW
Something's causing spells to fizzle and ponies to fall from the sky! We need to investigate what's going on, and the magic-munching Tirek is the first stop. Join Twilight Sparkle on this limited-time Story Quest!
Welcome Gallus the Griffon, Ocellus the Changeling, Cozy Glow and many more!
Feel the power of the Magic Siphon and bust out some Monster Cages along with other new decorations.
Let your students crash at the Friendship Campus Cottage, and the Ponyville Post Office gives your town's workers a place to stay too!
Magnet: Collect from all your shops by holding the magnet(above the quest book but the quest book has to be closed for it to show up) and you can only use it once per town every 6h or pay 12 to skip the wait.
Themes: You can buy themes buy tapping the inventory button above the store for gems, there is 4 Themes (Two in Ponyville, One in Sweet Apple Acres, & One in Canterlot ranging from 300 -1,000 ) some themes will change the background music, give you new quests, & a bonus on Bit Production.
1 New Collection (Young Six), 2 New Shops, 1 New Outfit, & 13 New Characters.

Changes
Notifications: You can now change how often a Notification can pop up from Instant to every 5 hours (you can also have it disable Notifications from 9 pm - 8 am (your device time) so it won't wake you up).
Quick Inventory: The quick inventory(above the store) when tapped now separates Characters, Shops, Decor, Background, & Paths into their own separate tabs.
The piggy bank capacity has been increased to *[to be determined]*.
New Content
Characters
Ponyville
Chatty Friendship Student

Pegasus Courier

Chummy Friendship Student
Shops
Update 39
Version 4.9 Released on Thursday, December 20, 2018(IOS/Android).
When the weather gets colder, hearts get warmer to welcome lots of new faces. So find a nice happy home for plenty of fresh friends to spend this Hearth's Warming Eve!

WHAT'S NEW
Meet the generous Gift Givers of the Grove, Aurora, Alice and Bori, plus plenty of festive fillies, foals and more that can't wait to celebrate!
Unwrap your own Flim & Flam's Holiday Stall, Crystal Sculptor's Workshop, and other places to do some seasonal shopping!
Savor the season with the Tower of Gifts, Flim Flam Land, plus more to place around your Ponyville!
14 New Characters & 3 New Shops
A new "Hearts Warming" special Theme is available in Ponyville for 5000 bits
New Content
Characters
Ponyville
Oak Nut

Determined Shopper

Bird Whisperer Pony

Unlucky Pony

Inquisitive Shopper

Knowledgeable Shopper
Shops
Decor
Other
Sweet Acorn Orchard Sign
Tower of Gifts
Flim Flam Land
Gifts for Rarity
Quick Update
Released on January 10, 2018 which added 7 new Characters
New Content
Characters
Ponyville
Romantic Pirate

Gold-Toothed Pirate

Yarn-Spinning Pirate

Captain Hoofbeard

Mama's Colt Pirate

Cardsharp Pirate

Swashbuckling Pirate
Update 40
Version 5.0 Released on Thursday, January 24, 2019(IOS/Android).
Update 40 is warming hearths and hearts alike, so be sure to download these limited-time tales of friendship and love, straight from the latest season of the show and comics!
What's New
THE HEARTH'S WARMING CLUB: A botched prank ruined Hearth's Warming Eve for everycreature! Help Twilight Sparkle catch the culprit, as the six suspects share their pasts in this limited-time story event.
A VALENTINE'S FLASHBACK: Go back to when Shining Armor and Princess Cadance first met in Canterlot Academy, and help this destined pair find love in a wonderful limited-time story event.
NEW HAPPY HOMES: Bring a retro touch to your town with Cadance's Home and Canterlot Academy, or go big with the ominous Dragon Lord's Cave.
EVEN MORE DÉCOR: The Academy Queen & King's Crowns and Dragon Lord's Throne will add an absolutely regal feel anywhere! Try them, plus several other decorations.
Don't forget to download the update to feel the love & join the fun!
14 New Characters & 2 New Shops
New Content
Characters
Shops
Other
Changeling Punch Pool

Changeling Lamp Vendor
Decor
Other
Dragon Lord's Throne
Academy Queen & King's Crowns
Changeling Hearth's Warming Tree
Bloodstone Scepter
Changeling Gifts
Changeling Bonfire
Snilldar Fest Moss Pile
Changeling Lantern
Quick Update 1
Released on February 7, 2019 for everyone whe you opened the game. It added 10 new Characters and 2 new Shops
New Content
Characters
Shops
| Canterlot | Other |
| --- | --- |
| | |
Update 41
Version 5.1 Released on Thursday, March 28, 2019(IOS/Android).
Ever wonder what would have happened if the past had unfolded differently? Find out in these two Limited-Time Stories, straight from season 8 and season 5 of the show!
What's New
FATHER KNOWS BEAST: A strange dragon just landed in Ponyville! But is it really Spike's dad? Or is our purple friend about to get burned?
THE CUTIE RE-MARK: Take a journey through time, and see what versions of Equestria could have been had the Mane Six never met!
WORLDS FULL OF FRIENDS: Welcome Lunaverse Rainbow Dash, Lunaverse Rarity and many more friends from other realities and our own! Also, Princess Eris, Disguised Celestia, Braid-Maned Schoolpony, Periwinkle Townspony, and Bluish-Pink Townspony can't wait to celebrate the magic of friendship with you!
13 Characters & 2 Shops were Added
New Content
Characters
Ponyville
Canterlot

Lunaverse Rarity

Lunaverse Rainbow Dash

Braid-Maned Schoolpony

Periwinkle Townspony

Bluish-Pink Townspony

Neat-Maned Townspony

Magenta Townspony

Shadesy Townspony

Seafoam Townspony
Shops
Decor
Trivia
Spike with a trenchcoat (from Molt Down) and Fizzlepop Berrytwist may occasionally appear anywhere in the map: tap on them to receive bonus Bits and Tokens.
Update 42
Version 5.2 Released on Tuesday, May 21, 2019
Saddle up to see far off places and brand new faces in three new Limited-Time Stories from the show, including a double-dose of "Blitz Stories" which will only be around for one weekend each!
What's New
THE ROAD TO FRIENDSHIP: Trixie and Starlight Glimmer are going on tour in Saddle Arabia! But will this journey break their bond, or bring them closer than ever?
THE CUTIE RE-MARK PARTS 2 & 3: Visit more alternate Equestrias as you travel through the Changelingverse and Sombraverse in two Blitz Stories available for just 3 DAYS EACH!
FAR-OFF FRIENDS: Welcome some swell Saddle Arabians like Hoo'Far, plus otherworldly guests like Sombraverse Applejack and Rainbow Dash, as well as Changelingverse Fluttershy and Pinkie Pie and more!
Added 17 Characters, 2 New Shops, & 12 New Collections
New Content
Characters
Ponyville
Canterlot
Crystal Empire

Elderly Innkeeper

Brusque Innkeeper

Outdoorsy Somnambulan

Tall Innkeeper

Smiley Somnambulan

Changelingverse Pinkie Pie

Changelingverse Fluttershy

Sombraverse Rainbow Dash

Sombraverse Applejack

Hoo'Far
Shops
Update 43
Version 5.3 Released on Tuesday, June, 11, 2019 (Android/IOS).
It's time to expand in style! Check out the new Pro-Design Bundles that can expand your land, clear out obstacles, and perfectly place items — all with just a tap!
What's New
NEW FEATURE: PRO-DESIGN BUNDLES
Pick a Bundle from the Shop containing your favorite combination of buildings and decorations.
Place it on any plot to expand your Ponyville and more!
Automatically clears out any obstacles in the space too.
Once placed, you're free to add, remove and rearrange the items as you please.
Update 44
Version 5.4 Released on Tuesday, July 23, 2019 (IOS/Android).
New designs, multiple personalities, and a missing princess make this an update to remember!
WHAT'S NEW
Our soft-spoken friend is trying on loads of new looks… and personalities to match. Help bring back her true self in this limited-time story based on the episode "Fake It 'Til You Make It" from the show!
BATTLE FOR THE SUN & MOON
Princess Celestia has gone missing! Now, Princess Luna has called upon the Mane Six to investigate the journal of Star Swirl the Bearded, Equestria's most capable conjurer, to dispel this mystery. Join them for these two Blitz Stories based on the MLP comic, "Reflections."
Many classic houses and buildings (some of which you may already own) are getting free makeovers! Keep your eyes peeled to see all the delightful details being added across the land.
22 New Characters, 1 New Outfit, 5 New Shops, & 20 New Collections
New Content
Characters
Ponyville
Silver Berry

Pursey Pink

Blueberry Curls

Cutting-Edge Shop-Pony

Dignified Shop-Pony

Blue Bobbin

Neigh Sayer

Runway Model

Wise Muffins

?
Shops
Update 45
Version 5.5 Released on Thursday, September 5,  2019 (iOS) and Tuesday, September 17, 2019 (Android). (Note: Quick update for Android on September 6 to be able to participate in Rainbow Roadtrip LTS)
A slew of stories await you in this latest update! Stories that will take you to colorful lands to find new friends and foes where you'd least expect them to appear!

WHAT'S NEW
The Rainbow Festival is underway in Hope Hollow, and none other than Rainbow Dash is the guest of honor. But upon arriving, she notices something is missing from the town… namely, ALL OF ITS COLOR! Help find the magic needed to bring back the beauty in this Limited-Time Story based on the "Rainbow Roadtrip" TV special!
Leaders from around the world have assembled in a grand convention of art, diplomacy and unity. But while digging through historic documents, Twilight Sparkle finds an age-old treaty that threatens to redraw the very map of Equestria… Help resolve this political crisis in a Limited-Time Story based on the comic, "Convocation of the Creatures."
The Mane Six work so hard, they deserve a dip in the hot spring… to relax a while… and turn totally mean! Team up with Rarity to uncover what dark force has taken hold of the ponies in this Blitz Limited-Time Story based on the comic, "Ponies of Dark Water."
When the heroes of light are locked away, it falls upon night to save the day. Join Trixie and other former villains assembled by Princess Luna, to fight a never-before-seen threat to Equestria in this Blitz Limited-Time Story based on the comic, "Nightmare Knights."
28 New Characters, 6 New Shops, & 4 New Collections
New Content
Characters
Shops
Update 46
Version 5.6 Released on Tuesday, October 22,  2019 (Android) and Wednesday, October 23, 2019 (iOS).
This update is a truly historic event, with four new stories inspired by the My Little Pony show and comics!
WHAT'S NEW
NIGHTMARE NIGHT AT THE MUSEUM
There's an especially spooky event at the History Museum and everyone's come in costume. But the real fun begins when a spell accidentally animates the exhibits and brings book characters to life! Help put history back in its proper place in this Limited-Time Story.
Help Starlight Glimmer open up and share more secrets about the alternate-reality Equestria she created in a new Limited-Time Blitz Story that continues from the previous Sombraverse story event.
Extra! Extra! Trenderhoof is bad-mouthing Sweet Apple Acres in the paper, and Applejack won't stand for it! Join her to set the record straight in this new Limited-Time Blitz Story.
RARITY'S RETRO REVOLUTION
Rarity wants to recreate Colonial Whinniesburg with all its timeless fashion in a special festival. Dig up details of the time, invite Equestria's most influenced ponies, and recreate some of the most historically fashionable outfits in this Limited-Time Story!
New Content
Characters
Shops
Update 47
Update 48
Update 49
Update 50
Update 51
Update 52
Update 53
Update 54
Update 55
Update 56
Update 57
Update 58
Update 59
Update 60
References