Current Version
| IOS | Android | Current Update |
| --- | --- | --- |
| 5.4 (July 23, 2019) | 5.4 (July 23, 2019) | Update 5.4 |
Past Versions
Update 0
Update 1
Version 1.1 - Hearth's Warming Eve
Released on December 20, 2012(IOS)/January 4, 2013(Android).
Patch notes
Meet New Ponies: Make friends with Pipsqueak, Teacher's Pet, and Bowling Pony.
New Buildings: Get Cozy in the Log Cabin, and treat yourself at the Ice Cream Shop!
New Decorations: Add a merry touch to Ponyville with five seasonal items
Snow everwhere: See your buildings and all of Ponyville covered in white. After all, what's winter without snow?
Holiday Quests: Enjoy 10 special holiday missions full of joyful adventures!
Bug fixes and system optimizations.
Christmas-themed expansion - winter theme applied to Ponyville with snow on the ground, buildings, and objects

New ponies
New houses
New shops
Update 2
Update 3
Update 3.5
Released on March 28, 2013.(IOS Only)
Easter Theme
New Ponies
Forsythia (28,800 )
Quest Book changed appearance
Tool Scroll changed appearance
Loading Screen changed appearance
Update 4
Version 2.0 - Canterlot Wedding
Released on April 15, 2013.
Jesus Pezuna removed
Expansion to a second regions - Canterlot
Storyline refers to the wedding of Twillight's Brother, Shining Armor and Cadence
New Quests
Reconfiguration of Menu Scroll - Shops now show as a separate button on lower right hand of screen
Shop now has 2 tabs on each section - One for Ponyville, one for Canterlot
Shop now has a separate section for items on sale
Train station appears on top of Ponyville that leads to Canterlot
New Ponies
Shining Armor and Princess Cadence moved from Ponyville to Canterlot.
New Shops
New Decorations (Canterlot only)
Update 5
Canterlot Theater (C) - (500 )
Ponyville Theater (P) - (500 )
The Theater can be used to watch trailers for other Gameloft games. Each trailer awards 2 gems after being watched for the first time.
Octavia is moved from Ponyville to Canterlot
Gem prices are lowered for most ponies and the Ballon Pop Game (down to 10 )
Fixes the issues with the end of the questline in Ponyville to get Luna (should appear in Inventory)
New tab in the Store: What's New (displays all new items added in the update)
Update 6
Lotus Blossom (C) - (70  )
Aloe (C) - (50 )
Masseuse Pony (C) - (80,000  )
New decorative buildings
Redesigned Ball minigame
Fixes issues with Luna (should now always have 5 stars)
Option menu has been slightly reworked, there is now a button to exit the game.
Update 7
Update 7.5
Released on October 23, 2013.
Nightmare Night theme
New Ponies
Fire Chief (C) - (45000 )
Emerald Gem (C) - (80 )
Update 8
Version 1.7.0 - Hearth's Warming Eve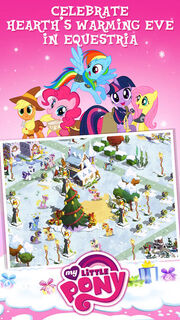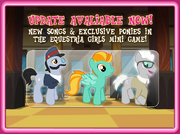 Released on December 9, 2013.
Winter theme in Ponyville and Canterlot
Hearth's Warming Eve items in Ponyville shop
New ponies
Equestria Girls Minigame updates:

New songs

Cafeteria Song (Level 3 difficulty)
Time to Come Together (Level 3 difficulty)

Implemented social features: compare scores with Gameloft friends and add friends to dance during a game session for a higher score
Reduced points necessary for winning the final prize
Improved touch sensitivity in game (green pair notes can now be hit easier)
Earn +1 for sharing score after a dance session
Increased score per note for higher difficulty songs.
Update 8.5
Version 1.7.1 - Hearth's Warming Eve Extended
Released on December 12, 2013.
Mane Six ponies wear their respective Hearth's Warming Eve play costumes
Derpy now spawns inside a large gift box
New ponies in Canterlot
New shops in Canterlot
New decor for Canterlot (Hearth's Warming Eve exclusive)
Update 9
Update 10
Version 1.9 - Sweet Apple Acres update
Released on June 4, 2014.
New area, Sweet Apple Acres, with a number of new ponies

Several ponies and shops related to the Apple Family are moved from Ponyville and Canterlot to Sweet Apple Acres
New quests available for this area.

In addition to the ponies added in Sweet Apple Acres, several ponies are added in Ponyville and Canterlot
The Mine Cart minigame can now be accessed from an icon on the bottom left like the Equestria Girls dance
New type of rewards: Events

Events are timed objectives (ranging from one day to one week) which offer up to three rewards depending on how far you can fill the meter within the time limit. The final reward can be some of the new ponies or decorations, lesser rewards can be bits, shards, hearts or wheels.

Level Cap increased to 80
New travel interface allowing you to choose which area to travel to, with icons showing if an area has active quests (number in the icon) or shops to collect from (icon showing a coin).
Update 11
Released on October 6, 2014 (October 13, 2014 on Android)
Parasprite spawn duration increased

Parasprites and Vampire Bats no longer spawn large numbers of a single color.

Leaderboard changes
Score increased per note in Equestria Girls mini-game
Crystal Mine Game bug fixes
Level cap increased to 85
Thai and Arabic languages are now supported
UI changes
Unexpanded lands are now darker
New ponies
Update 12
Version 2.1 - Everfree Forest update
Released on December 11, 2014(IOS)
New area, Everfree Forest, with a community event on saving the Tree of Harmony
Added cloud save feature
Level Cap increased to 90
18 new winter Decorations
12 New Ponies (Though 16 appear in the Albums)
Plunderseed vines on buildings and some decors for Ponyville and Sweet Apple Acres only
Added new features in the Magic Wings game
Free King Sombra that lives in Canterlot as a 2nd anniversary gift
Added global Leaderboards
Princess Twilight Sparkle's crown updated to match the one she wears for most of Season 4.
Quest chains for the Everfree Forest
New minigame: Zecora's Hut for making totems that generate Element Shards.
Update 13
Version 2.2 - Princess Twilight's Castle
Released on March 13, 2015 (on Android)
Quest chain featuring Chest of Harmony and Lord Tirek, rewarding players with Twilight Sparkle's castle
6 new ponies

Ponyville
Canterlot
Sweet Apple Acres

3 new shops that can employ up to five ponies each

Ponyville
Canterlot
Sweet Apple Acres

Expanded Canterlot map
Eclair Crème's eyes design updated to match her album image
Update 14
Released on April 21, 2015
Dragon fighting event rewarding players with sapphires , a new currency to spend on ponies, shops and decor
Level cap increased to 100
Removed Gameloft Live and other social media connections to comply with online child safely regulations.
Added Twitter4j Twitter API packages in game files.
Event-exclusive Balloon Pop mode (500 , replaces Social Lottery)
15 new ponies available during event

Ponyville
Canterlot
Sweet Apple Acres

New five-pony shops

Canterlot
Sweet Apple Acres

Friendship Lake decor item (500 )
Update 15
Released on September 24, 2015 (on iOS)[2]
Reworked login rewards system
Rebalanced level progress
8 new ponies

Ponyville
Canterlot
Sweet Apple Acres

New shops
New decorations
Update 16
Released December 14 2015 (iOS) [December 15, 2015 for Android]
New Game Features

Discord talks in game
Level cap is 115
New interface for differing local/cloud saves (insert picture)
Easier Player Reporting System

Event Leaderboards: report player by clicking on their icon
Social Friends: report player by clicking red button after clicking name

Gameloft Live is removed from all regions
Watching videos has returned (to earn Free Gems, play 2x minigames, etc.)
Leaderboard Trophy icon has moved to the Scroll
iOS game controllers are now supported

New Ponies

Ponyville
Canterlot
and more

New 5-pony Shops "Just in time for Holiday Shopping!"

Ponyville
Canterlot
Sweet Apple Acres

New High-Flying Decorations

Lilac Sky Airship
Lavender Spirit Airship

The Carousel Boutique is Now Open For Business

New Boutique building is located on the maps of Canterlot and Ponyville, between EG Mirror and Train Station
New Boutique link icon added to lower left menu (replaces Leaderboard Trophy)
Dress up your Mane Six with custom costumes, accessories and hairstyles.

Purchase raw sewing materials ("Get More"--3 random materials from boxes--for 5 gems)
Craft new costume items from various amounts of materials
Each costume change costs various amounts of Bits
Mane Six ponies can vary their looks in one or all three areas

Head: Hairstyle or mane changes; added accessories
Body: Outfit may include footwear, clothing, and/or outerwear (cape)
Tail: Tail style, length, and/or color changes; added accessories

Complete costume outfits provide bonuses during gameplay when worn.

Increase total points earned during crystal mine game
Increase bits income earned from shops
Increase points scored while earning five stars
Update 17
Released February 17, 2016 (iOS), March 1, 2016 (Android).
Level Cap increased to Level 120
VIP SYSTEM: Unlock bigger and bigger rewards for reaching higher VIP status levels!

VIP points currently require real money
Store added new special VIP tab

REFER A FRIEND: Bring your friends to Equestria to earn awesome rewards!
NEW CONTENT: Meet more new ponies in town and check out amazing new shops and decorations.
DAILY REWARDS EXTENDED: Will you be able to get Jigging Clownspony as a reward?
New Ponies

Sweet Apple Acres -- If you are a fan of horsing around, you are as excited about Clownsponies as we are!
Canterlot
Griffons Are on Their Way! Did you know that Gilda the Griffon, an old friend of Rainbow Dash, can fly and stand on clouds? Gilda and her friends were so impressed by the beauty of Equestria that they decided to take a detour on the way to Ponyville! They will join the party really soon!
Update 18
Released April 13, 2016 (IOS)/ April 14, 2016(Android)
Time to party, everypony! Team up with friends to make the biggest bash Ponyville's ever seen in new limited-time co-op events!
-What's New-
PONY PARTIES: Get together with other players and prepare to raise the hoof!
RAVE REQUESTS: Help the ponies have a blast by completing party quests.
CELEBRATION DECORATIONS: Adorn your Ponyville in festive style with 5 new shops and over 40 new decorations!
BLOWOUT REWARDS: Win shops, resources and decorations.
SPREAD THE FUN: You're gonna need more space to fit all this content -- enjoy new land expansions added to your Ponyville!
New Characters

Shops

Notes
Speed of Mine Cart game seems to have increased, leading to players easily crashing into double barrels at end of dips.
If the video button for clothing materials does not appear, switching to a different pony might make it appear. Some players have reported the removal of the video button in Rarity's Boutique, whilst others still see it. Could be by region/join date.
Update 19
Released June 9, 2016 (IOS) / June 17, 2016 (Android)
The extraordinary Fashion Show Event has come to My Little Pony! Join the fun and dress up the Mane Six ponies for amazing rewards!
What's New

FASHION SHOW: Craft outfits & complete collections to earn prizes. Complete all the collections in time to win a special bundle!
NEW CHARACTERS: Give a warm welcome to Charity Kindheart, Wind Rider & Misty Fly, Gustave le Grand and more, as they rush to join your Equestria!
ASTONISHING SHOPS: Assign your ponies to the Strawberry Shop & Pony Pavilion.
NEW DECORATIONS: Beautify your Equestria with the Crystal Sculpture, Alicorn Figure, Sands of Time and other dazzling decorations!
Event

You now need to press participate before you can have any progress saved on an event (Social/Special/Solo)
Amount of players per server for Social/Special has been increased
Other

Expansion Zones are now lighter and blends in with the surrounding
Equestria Girls mini-game song timers were cut down to a shorter cooldown
Level Cap has been raised to 130
Fashion Show has been added to the Collection Book
The Train Map has been zoomed in
Ponyville icon on the Train Station has changed from the Town Hall to Twilight's Castle (there may be a glitch for some that the Town Hall is still the icon)
Update 20
Released: August 3,2016(IOS) / August 3,2016(Android)
Time for the spectacle, time for the show!
Equestria's #1 Pony-Star is coming to the My Little Pony game!
What's New

Welcome... Countess Coloratura!
NEW QUEST LINE: Enjoy an amazing new quest line based on one of the TV show's most popular episodes, complete tasks and get Rara!
COLLECT TOKENS: Use the tokens to unlock Countess Coloratura, Svengallop, Coloratura's dancers, and others!
ASTONISHING BUILDINGS & DÉCOR: New Big-Apple Stage, Countess's Chariot and other amazing shops and decorations!
Other Changes

New land expansions in Sweet Apple Acres
Mane 6 can do individual tasks now but will be taken out of work to do it
Album Image got changed to a new look
Pressing Assign in an album page will auto assign them to a shop
Due to legal regulations Link A Device feature was removed
Other Pony Tasks

Countess Coloratura

Rehearse a new song(3h)
Dance with Half Baked Apple(4h)

Svengallop

Review the contract(4h)
Inspect the Orange Stand for brand synergies(7h)
Order Sprinkle Stripe around(8h)
New Ponies

Ponyville
Sweet Apple Acres
Canterlot
Other Ponies
Shops

Canterlot
Sweet Apple Acres
Update 21
Released: September 28,2016(IOS/Android)
The Crystal Empire's sparkle-riffic light is shining all across Equestria! Ride the Friendship Express to this icy new city and collect Snow Globes to go on breathtaking adventures!
WHAT'S NEW

NEW LOCATION: Bask in the glory of the Crystal Castle and build many magnificent new buildings & décor.
CRYSTAL PONIES: Welcome adorable, sparkling friends to your kingdom.
CRYSTAL FAIR QUEST: King Sombra is looming outside the Crystal Empire. Renew the spirit of love and unity, and protect the Empire!
Other Changes

You can now scroll up the map(Train Station)
New Collections
Materials can no longer be won in Equestria Balloon Pop
Level raised to 140
King Sombra is no longer in Tricksters collection
You get a loading screen when leaving the Balloon Pop
Shops can produce Snowglobes
Horticultural Pegasus can now be obtained at VIP Level 1(Was at VIP Level 2)
---

Update 3.1 Quick Update(Nightmare Night)
Released: October 24, 2016(IOS/Android)
Update 22
Released: November 29, 2016 (iOS) / December 1, 2016 (Android)
Hey, everypony! An awesome My Little Pony update is here!
-What's New-

TRAVELING PONIES: The Golden Horseshoe Hotel is ready to pop up in your Ponyville. It attracts herds of unique ponies to come and stay for a limited time, but you can complete tasks to convince them to settle in Equestria for good.
NEW PONIES: Welcome Fluttershy's family Zephyr Breeze, Mr. & Mrs. Shy and other ponies.
ASTONISHING BUILDINGS & DÉCOR: Add The Shy Family Home, Dancing School, Racetrack and more!
---
(Downloads when you start the game, so no update from the store)
Update 3.2 Quick Update(Hearth's Warming)
Released: December 16, 2016(IOS/Android)
Update 23
Released: February 8, 2017 (iOS/Android)
What's New

New Limited-Time Mega Events in Equestria!
WEDDING BELLS ARE RINGING!: Meet Cranky Doodle, his beloved bride Matilda, and new pony friends! Steven Magnet's Hair Salon, the DJ Booth & the Wedding Cake will help you prepare the perfect wedding for this most magical day!
NEW CHARACTERS: Introducing the Donkeys. Create the perfect Equestrian wedding with the amazing citizens of Equestria.
NEW BUILDINGS: Doctor Whooves' Lab, Symphony Hall and the incredible Steven Magnet's Hair Salon will add the kind of charm that only a wedding can bring!
NEW DÉCOR: The beautiful Wedding Cake and DJ Booth are sure to entertain your guests... If the Bugbear statue doesn't scare them off first!
Tap the mysterious new structure to begin your newest adventure in Equestria!
Other Changes

Equestria Girls portal got moved(By the Crystal Mine Game in Ponyville & Crystal Empire, By the Castle in Canterlot)
A Camp tent has been added in all towns that is used for the Amazing Adventures
A shop to get into the gems & bits store took the spot where the Equestria Girls portall was at in Ponyville, Canterlot, & Crystal Empire and it is also in Sweet Apple Acres by the train station.
Snow has been removed
Hearth's Warming 2016 Quests has been removed
Derpy only spawns once a day
Cider Mill had once been 40 ,but now changed to 70 .
Album to characters has been modified
Chance bar for tokens drop rate changed looks
Bowling Alley is once 30,000 ,but now 2,000 .
Honey Stand is now unavailable in the Store.
About half of Canterlot Ponies disapears in the Store( Savoir Fare,Distinguished Pony,Dapper Pony,Compass Star,and Jet Set).
Update 24
Update 25
Update 26
Update 27
Update 28
Update 29
Update 30
Update 31
Update 32
Update 33
Update 34
Update 35
Update 36
Update 37
Update 38
Update 39
Update 40
Update 41
References
Community content is available under
CC-BY-SA
unless otherwise noted.