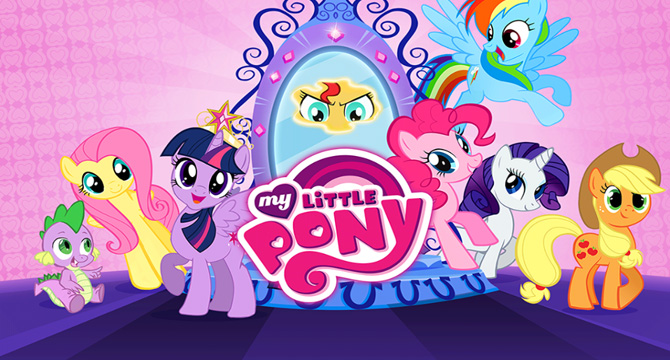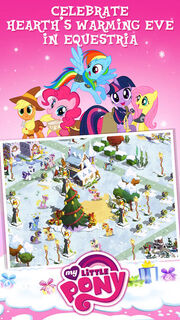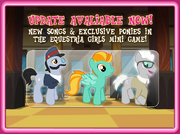 Released on December 9, 2013.
Winter theme in Ponyville and Canterlot
Hearth's Warming Eve items in Ponyville shop
Quest Log changed appearance.
Menu Scroll changed appearance.
New ponies
Equestria Girls Minigame updates:

New songs

Cafeteria Song (Level 3 difficulty)
Time to Come Together (Level 3 difficulty)

Implemented social features: compare scores with Gameloft friends and add friends to dance during a game session for a higher score
Reduced points necessary for winning the final prize
Improved touch sensitivity in game (green pair notes can now be hit easier)
Earn +1 for sharing score after a dance session
Increased score per note for higher difficulty songs.

Update 1.7.1
Released on December 12, 2013.
Mane Six ponies wear their respective Hearth's Warming Eve play costumes
Derpy now spawns inside a large gift box
Some prices of Ponies have been dropped.
New ponies in Canterlot
New shops in Canterlot
New decor for Canterlot (Hearth's Warming Eve exclusive)
Update 1.7.2
Released on February 12 2014.
Mane Six no longer wear their costumes.
Valentines Day items in Ponyville and Canterlot shop.
Derpy's box is normal again.
Ponyville and Canterlot are no longer snowy.
Quest Log changed appearance.
Menu Scroll changed appearance.
New decor for Canterlot
New Ponies
Community content is available under
CC-BY-SA
unless otherwise noted.