Unicorn Guard serves the princesses and helps to protect Equestria. He lives in Unicorn Guard's House in Canterlot. He became available due to the Canterlot update. He is available at level 25; this was dropped from 33.
Unicorn Guard was one of the characters available in the beta version of My Little Pony presented at My Little Pony Project 2012 New York, at a cost of 400

. As Canterlot was not added until the Canterlot Wedding update, he lived in Ponyville in the beta. He was available for 140,000

before being removed until reappearing in Update 2.4 for 300

.
Collection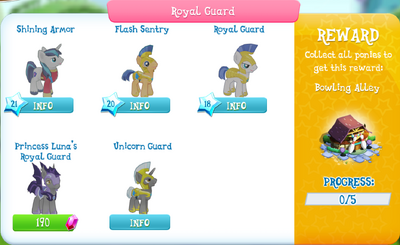 Characters

‌

Mane Six (The Elements of Harmony)
Ponyville (588 Characters)
Canterlot (148 Characters)
Sweet Apple Acres (129 Characters)
Crystal Empire (51 Characters)
Klugetown (40 Characters)
Unknown Location (4 Unknown & 8 Missing)
Other
Non-playable
Removed
Unimplemented/Unreleased
Click on the town you want and it will reveal the characters in that location (the new way for Show/Hide)
Community content is available under
CC-BY-SA
unless otherwise noted.