Twinkleshine

Twinkleshine is a fun-loving pony with sparkly blue stars for a cutie mark. She's one of the bridesmaids in the Canterlot Wedding.
Playable
Yes
Level
20
Town
Canterlot
Arrival Bonus
80
House
Twinkleshine's House
Minigame Timer
270m(4h 30m)
Minigame Skip
7

Cost/Prize

12
Royal Balloon Pop
Equestria Girls
Quests
Involved in quests
"Galloping Maiden"C
"Change of Plans"C
"Rise and Shine"C
Twinkleshine
is one of
Princess Cadance
's bridesmaids. She lives in
Twinkleshine's House
in
Canterlot
.
Cost
Twinkleshine cost 80

when she was first added but was dropped down to 16

in the Spa Update and then again to 12

in the 2013 Christmas Update. She can be unlocked at level 20; this was raised from level 10.
Balloon Pop
Collections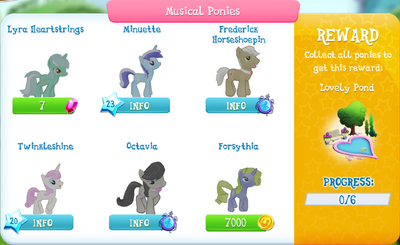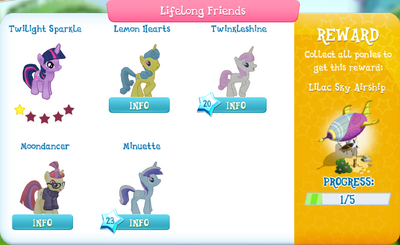 Gallery
Characters

‌

Mane Six (The Elements of Harmony)
Ponyville (483 Characters)
Canterlot (144 Characters)
Sweet Apple Acres (112 Characters)
Crystal Empire (51 Characters)
Klugetown (40 Characters)
Unknown Location(6 Characters)
Other
Non-playable
Removed
Unimplemented/Unreleased
Community content is available under
CC-BY-SA
unless otherwise noted.