Truffle

This little pony loves food more than anything, and he's got a knife and fork as a cutie mark!
Playable
Yes
Level
9
Town
Ponyville
Arrival Bonus
50
House
Log Cabin
Minigame Timer
110m (1h 50m)
Minigame Skip
3

Cost/Prize

5,000
Equestria Balloon Pop
Royal Balloon Pop
Equestria Girls
Truffle
is a school aged pony who loves food. He lives in the
Log Cabin
in
Ponyville
. He becomes available at
level
9 for
5,000

, and was added in the
Hearth's Warming Eve 2012 update
.
Trivia
This pony does not have an official name so far. His given name in the game probably references his appearance in "Hearts and Hooves Day", where he gives a valentine to his teacher, Cheerilee. He's sometimes called "Truffle Shuffle" by fans.
Balloon Pop
Collection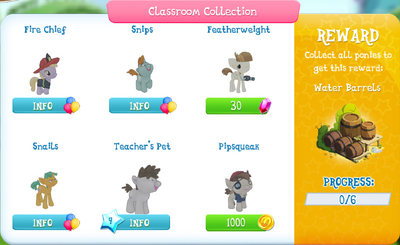 Characters

‌

Mane Six (The Elements of Harmony)
Ponyville (417 Characters)
Canterlot (142 Characters)
Sweet Apple Acres (98 Characters)
Crystal Empire (51 Characters)
Klugetown (40 Characters)
Other
Non-playable
Removed
Unimplemented/Unreleased
Community content is available under
CC-BY-SA
unless otherwise noted.