The Shadowbolts are three Pegasus ponies who live in The Shadowbolts' Hut in Ponyville. They were added in the Everfree Forest update. Like Princess Celestia and Princess Luna, they have 5 stars as soon as they've been welcomed and can't play minigames except the Minecart minigame.
The Shadowbolts may appear as a time-limited Gem Balloon Pop prize.
Individual Shadowbolts are obstacles in the Clear the Skies and Crystal Mine minigames.
Balloon Pop
Collection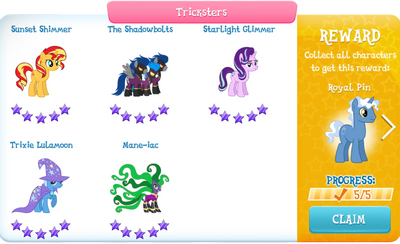 Gallery
Characters

‌

Mane Six (The Elements of Harmony)
Ponyville (549 Characters)
Canterlot (145 Characters)
Sweet Apple Acres (129 Characters)
Crystal Empire (51 Characters)
Klugetown (40 Characters)
Unknown Location(9 & 11 Missing)
Other
Non-playable
Removed
Unimplemented/Unreleased
Community content is available under
CC-BY-SA
unless otherwise noted.