Spitfire

Spitfire is the captain of the most talented flyers in all of Equestria, the Wonderbolts.
Playable
Yes
Level
13
Town
Ponyville
Arrival Bonus
30
House
Wonderbolts Academy
Minigame Timer
105m (1h 45m)
Minigame Skip
3

Cost/Prize

14,800
Equestria Girls
Quests
Involved in quests
"Wonderful Wonderbolts!"P
"Flying High"P
"Show Time!"P
Spitfire is the captain of the Wonderbolts and lives at the Wonderbolts Academy in Ponyville.
Collection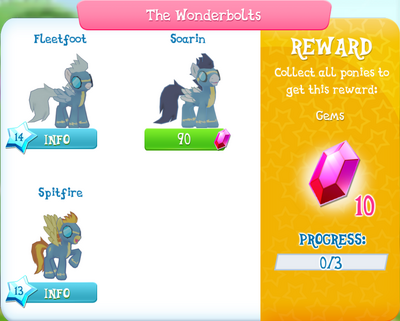 Characters

‌

Mane Six (The Elements of Harmony)
Ponyville (598 Characters)
Canterlot (148 Characters)
Sweet Apple Acres (129 Characters)
Crystal Empire (51 Characters)
Klugetown (40 Characters)
Unknown Location (5 Unknown & 11 Missing)
Other
Non-playable
Removed
Unimplemented/Unreleased
Click on the town you want and it will reveal the characters in that location (the new way for Show/Hide)
Community content is available under
CC-BY-SA
unless otherwise noted.