Snails is a school age pony whose best friend is Snips. He lives at Snips' House in Ponyville.
Snails was one of the characters available in the beta version of My Little Pony presented at My Little Pony Project 2012 New York, at a cost of 100

.
Cost
Snails must be won from Balloon Pop but in the first nine versions of the game if the social networks was switched off, you could purchase him for 2,500

.
Balloon Pop
Collection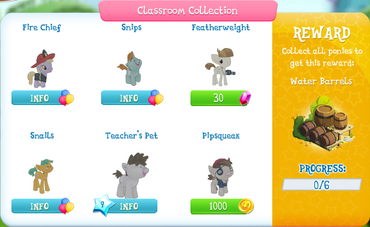 Characters

‌

Mane Six (The Elements of Harmony)
Ponyville (588 Characters)
Canterlot (148 Characters)
Sweet Apple Acres (129 Characters)
Crystal Empire (51 Characters)
Klugetown (40 Characters)
Unknown Location (4 Unknown & 8 Missing)
Other
Non-playable
Removed
Unimplemented/Unreleased
Click on the town you want and it will reveal the characters in that location (the new way for Show/Hide)
Community content is available under
CC-BY-SA
unless otherwise noted.