Scootaloo is a filly pegasus pony and one of the Cutie Mark Crusaders. In game, she lives in the Cutie Mark Crusaders Clubhouse in Sweet Apple Acres. She has to be welcomed and raised to three stars to complete "Get Along, Li'l Pony"P, and assigned to three shops to complete "Café Talk"P. Prior to the Sweet Apple Acres update, she lived in Ponyville. In update 3.9 she was moved back to Ponyville in Twilight's Library.
Cost
Scootaloo cost 50

 when the game was first released but was dropped down to 30

in the Movie Time Update. She costs 50

when offline. She is unlocked at Level 11. Scootaloo must be cost 50

but in the first nine versions of the game if the social networks was switched off, you could purchase her for 6,400

.
After update 4.2 she cost 15

.
Collection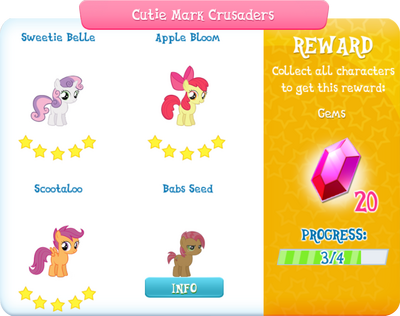 Gallery
Characters

‌

Mane Six (The Elements of Harmony)
Ponyville (588 Characters)
Canterlot (148 Characters)
Sweet Apple Acres (129 Characters)
Crystal Empire (51 Characters)
Klugetown (40 Characters)
Unknown Location (4 Unknown & 8 Missing)
Other
Non-playable
Removed
Unimplemented/Unreleased
Click on the town you want and it will reveal the characters in that location (the new way for Show/Hide)
Community content is available under
CC-BY-SA
unless otherwise noted.