Emerald Gem is a pegasus mare dressed up in a costume for Nightmare Night, added in the Nightmare Night update.
About
"Emerald Gem" is the in-game name for Sassaflash, who appears in the episode "Luna Eclipsed" dressed in the costume. She lives in Canterlot Manor with Fire Chief.
She used to cost 80

but was dropped down to 55

in the 2013 Christmas Update before becoming a


pony.
Balloon Pop
Collection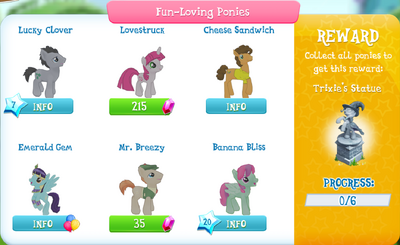 Gallery
Characters

‌

Mane Six (The Elements of Harmony)
Ponyville (588 Characters)
Canterlot (148 Characters)
Sweet Apple Acres (129 Characters)
Crystal Empire (51 Characters)
Klugetown (40 Characters)
Unknown Location (4 Unknown & 8 Missing)
Other
Non-playable
Removed
Unimplemented/Unreleased
Click on the town you want and it will reveal the characters in that location (the new way for Show/Hide)
Community content is available under
CC-BY-SA
unless otherwise noted.