Richard (the) Hoovenheart is an earth pony who wears a scarlet tunic, a grey mail hood and a medieval helmet. He lives in Richard (the) Hoovenheart's House in Canterlot.
Richard (the) Hoovenheart was introduced in the March 2014 version 1.8 update and is only available from the Crystal Mine Game.
Similar to Fire Chief and Emerald Gem, Richard is actually Jeff Letrotski in costume; unlike them, his uncostumed version is also featured in-game.
Collections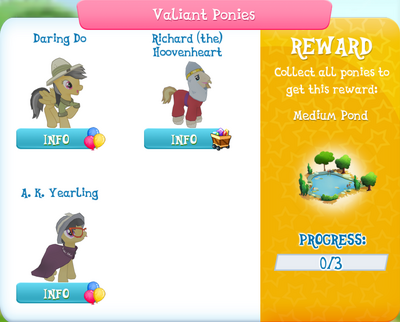 Characters

‌

Mane Six (The Elements of Harmony)
Ponyville (564 Characters)
Canterlot (145 Characters)

Richard (the) Hoovenheart

Sweet Apple Acres (130 Characters)
Crystal Empire (51 Characters)
Klugetown (40 Characters)
Unknown Location (4)
Other
Non-playable
Removed
Unimplemented/Unreleased
Community content is available under
CC-BY-SA
unless otherwise noted.