Professor is a scientist earth pony. He lives in Professor's House in Canterlot and can be won by playing the Equestria Girls mini-game

. He was added in the Hearth's Warming Eve 2013 update, along with Conductor and Lightning Dust.
Collection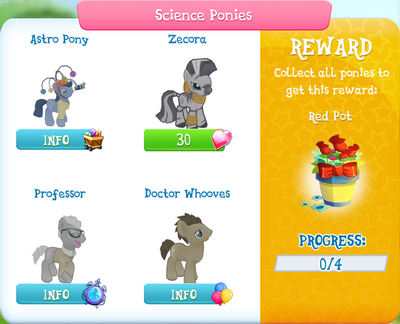 Characters

‌

Mane Six (The Elements of Harmony)
Ponyville (568 Characters)
Canterlot (148 Characters)
Sweet Apple Acres (129 Characters)
Crystal Empire (51 Characters)
Klugetown (40 Characters)
Unknown Location (4 Unknown & 8 Missing)
Other
Non-playable
Removed
Unimplemented/Unreleased
Click on the town you want and it will reveal the characters in that location (the new way for Show/Hide)
Community content is available under
CC-BY-SA
unless otherwise noted.