Prim Hemline

Prim Hemline is a renowned fashion critic who often judges at Manehattan's Fashion Week. Nothing makes this pony whinny more than a daring fabric!
Playable
Yes
Level
20
Town
Canterlot
Arrival Bonus
15
House
Designers' Atelier
Minigame Timer
140m (2h 20m)
Minigame Skip
4

Cost/Prize

Event Prize
300
Royal Balloon Pop
Prim Hemline
is a fashion critic who lives with
Suri Polomare
in
Prim Hemline and Suri Polomare's Home
in
Canterlot
. She was added in an
update
on April 30, 2014.
Prim Hemline apparently appeared in the store for some Android players with a cost of 120

, along with Elite Pony, Jet Set, and Suri Polomare, around April 30 – May 1, 2014, but subsequently disappeared or was removed. She can be made to appear in the store by turning off the Wifi.
Prim was offered as a time-limited character along with Jet Set on the weekend of May 16–18, 2014, at a discount of 5% (114

), on the 1st and 2nd day of Pony Reunion Week in October 24–25, 2014 along with Savoir Fare, Suri Polomare and Toe-Tapper without discount and in October 25–26, 2014 along with Maud Pie, Savoir Fare and Torch Song without discount.
Balloon Pop
Collection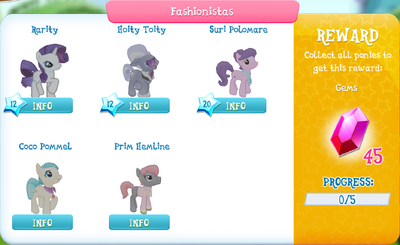 Gallery
Characters

‌

Mane Six (The Elements of Harmony)
Ponyville (549 Characters)
Canterlot (145 Characters)
Sweet Apple Acres (129 Characters)
Crystal Empire (51 Characters)
Klugetown (40 Characters)
Unknown Location(9 & 11 Missing)
Other
Non-playable
Removed
Unimplemented/Unreleased
Community content is available under
CC-BY-SA
unless otherwise noted.