Peachy Pie

This fun-lovin' filly finds laughs with her best pony pal Sunny Daze wherever they go!
Playable
Yes
Level
18
Town
Sweet Apple Acres
Arrival Bonus
70
House
Sunny House
Minigame Timer
130m (2h 10m)
Minigame Skip
4

Cost/Prize

Event Prize
100
Royal Balloon Pop
Peachy Pie is a filly earth pony living in Sunny House in Sweet Apple Acres with Sunny Daze. She was introduced in v2.3 update during Battle with Dragons event.
She was available as a prize from event-exclusive sapphire-priced Balloon Pop. Since v2.4 update she can appear as time-limited Balloon Pop prize or event reward.
Balloon Pop
Collection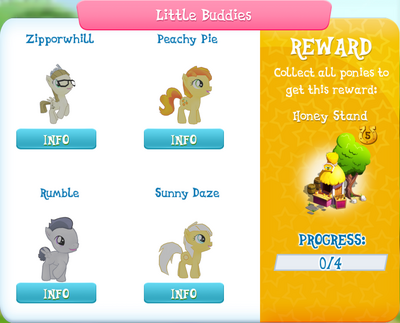 Characters

‌

Mane Six (The Elements of Harmony)
Ponyville (564 Characters)
Canterlot (145 Characters)
Sweet Apple Acres (130 Characters)
Crystal Empire (51 Characters)
Klugetown (40 Characters)
Unknown Location (4)
Other
Non-playable
Removed
Unimplemented/Unreleased
Community content is available under
CC-BY-SA
unless otherwise noted.