Mayor Mare is the mayor of Ponyville. She lives in the Mayor's House. She is voiced by Cathy Weseluck, and when tapped, says "'Mare-do-well!'
Mayor Mare was one of the characters available in the beta version of My Little Pony presented at My Little Pony Project 2012 New York, at a cost of 57,500

.
Cost
Mayor Mare must be cost 150

but in the first nine versions of the game if the social networks was switched off, you could purchase her for 57,500

.
Collection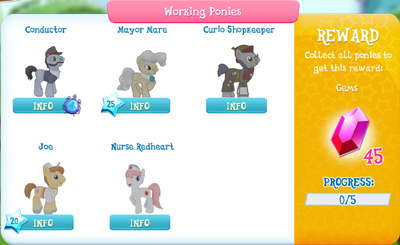 Characters

‌

Mane Six (The Elements of Harmony)
Ponyville (588 Characters)
Canterlot (148 Characters)
Sweet Apple Acres (129 Characters)
Crystal Empire (51 Characters)
Klugetown (40 Characters)
Unknown Location (4 Unknown & 8 Missing)
Other
Non-playable
Removed
Unimplemented/Unreleased
Click on the town you want and it will reveal the characters in that location (the new way for Show/Hide)
Community content is available under
CC-BY-SA
unless otherwise noted.