Masseuse Pony

A competent masseuse from the spa; hard-working and confident.
Playable
Yes
Level
20
Town
Canterlot
Arrival Bonus
100
House
Day Spa (House)
Minigame Timer
300m(5h)
Minigame Skip
8

Cost/Prize

Friendship Balloon Pop
Equestria Girls
Quests
Involved in quests
"Beauty Back-up"C
"Massage Therapy"C
Masseuse Pony
lives in the
Day Spa
in
Canterlot
.
She used to cost 8,000

but moved to


or can be won in Equestria Girls

.
Balloon Pop
Collections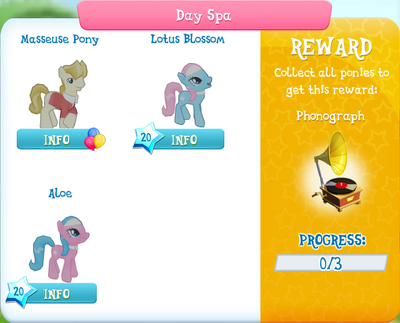 Gallery
Characters

‌

Mane Six (The Elements of Harmony)
Ponyville (452 Characters)
Canterlot (144 Characters)
Sweet Apple Acres (111 Characters)
Crystal Empire (51 Characters)
Klugetown (40 Characters)
Other
Non-playable
Removed
Unimplemented/Unreleased
Community content is available under
CC-BY-SA
unless otherwise noted.