The Mane Six Campsite is a campsite building in the Everfree Forest where the Mane Six stay when visiting. They can play mini-games there as well.
The campsite is rendered on the campsite seen in the sixth episode of season Three of My Little Pony: Friendship is Magic 'Sleepless in Ponyville' and contains Rarity's & Sweetie Belle's tent, Apple Jack's & Applebloom's tent and Rainbow Dash's & Scootaloo's tent as well as a campfire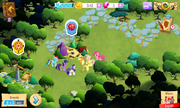 Community content is available under
CC-BY-SA
unless otherwise noted.