Mane-iac

The Mane-iac is a manic mare with mayhem on the mind! Arch-enemy of the Power Ponies, this vile super-villain lives for destruction, evil and terrible puns.
Playable
No
Level
1
Town
Ponyville
Arrival Bonus
500
House
Shampoo Factory

Cost/Prize

650
Royal Balloon Pop
Mane-iac is a pony who lives in Ponyville. She was offered as a 3 hour promo for buying a mountain of gems in February 2016. She comes already at 5 stars and can not play any mini games.
Mane-iac can also do a special animation and she produces shards, like King Sombra, Princess Celestia, Discord, Princess Luna and Sphinx.
Balloon Pop
Collection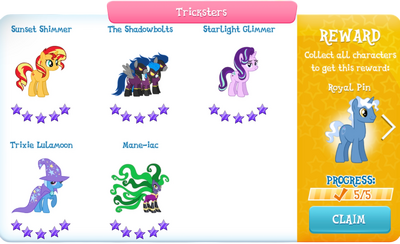 Characters

‌

Mane Six (The Elements of Harmony)
Ponyville (663 Characters)

Ancient Hostage Pony

Ancient Vagabond

Anti-Sugar Drummer

Anti-Sugar Pamphleteer

Anti-Sugar Pinkie Pie

Aunt Holiday

Auntie Lofty

Avant-Garde Soirée Goer

Bearded Hollowvian

Bird Whisperer Pony

Blush-Pink Townspony

Blueberry Curls

Blue Bobbin

Braid-Maned Schoolpony

Brusque Innkeeper

Candlemaker Reenactor Pony

Captain Hoofbeard

Cardsharp Pirate

Chancellor Puddinghead

Changelingverse Fluttershy

Changelingverse Pinkie Pie

Chatty Friendship Student

Chic Soirée Goer

Chiffon Swirl

Chipper Hallowvian

Chummy Friendship Student

Classy Timbucktu Resident

Cleopatrot's Mummy

Clover the Clever

Coiffed Waiter Pony

Commander Hurricane

Cool Soirée Goer

Corsaged Gangster Pony

Cutting-Edge Shop-Pony

Decepticolt

Determined Shopper

Diamante Elegante

Dignified Shop-Pony

Distemper

Distinguished Waiter Pony

Dr. Sacks Roamer

Drinkie Pie

Editor-in-Chief Pony

Elderly Innkeeper

Emperor Incitatus

Essence Salespony

Fauxlestia's Guard

Fili-Second

Flax Seed

Francesco

Friendly Timbucktu Resident

Future Applejack

Future Bon Bon

Future Fluttershy

Future Lyra Heartstrings

Future Muffins

Future Pinkie Pie

Future Pound Cake

Future Pumpkin Cake

Future Rainbow Dash

Future Rarity

Future Silver Spoon

Future Starlight Glimmer

Future Sunburst

Future Twist

Gaffer

Goldcap

Golden Gavel

Gold-Toothed Pirate

Heiress Reenactor Pony

Heritage Baker Pony

High Heel

History Museum Director

Honorable Flam

Honorable Flim

Hoo'Far

Hum Drum

Ice Witch

Inquisitive Shopper

Iron Hock

Kibitz

King Diomedes

King Orion

Knowledgeable Shopper

Long-Face

Loyalist Reenactor Pony

Lunaverse Rainbow Dash

Lunaverse Rarity

Mage Meadowbrook's Mom

Magenta Townspony

Mama's Colt Pirate

Mane-iac
Mane-iac (2)

Masked Matter-Horn

Masked Pony Gangster

Mayor Blossom

Medley Brook

Mirror-Universe Big Mac

Mirror-Universe Cadance

Mirror-Universe Granny Smith

Mirror-Universe Pony of Shadows

Mirror-Universe Shining Armor

Mirror Universe Stygian

Mistress Mare-velous

Ms. Conductor

Mystery Mare

Nearsighted Future Ponyville Citizen

Neat-Maned Townspony

Neigh Sayer

Nightmare Applejack

Nightmare Fluttershy

Nightmare Pinkie Pie

Nightmare Rainbow Dash

Nurse Neightingale

Oak Nut

Old Wizard

Outdoorsy Somnabulan

Pampadoured Future Wonderbolt

Pegasus Courier

Peppy Friendship Student

Perceptive Friendship Student

Periwinkle Townspony

Pinstriped Gangster Pony

Poindexter

Poofy-Haired Future Wonderbolt

Private Pansy

Pursey Pink

Queen Parabola

Queen Trottingham

Radiance

Ragamuffin

Rainbow Dash Fanpony

Revolutionary Reenactor Pony

Roadwings the Awesome

Rolling Thunder

Romantic Pirate

Runway Model

Russet-Maned Future Townspony

Saddle Rager

Sandbar's Dad

Sandbar's Sister

Scoop

Seafoam Townspony

Shadesy Townspony

Shadowmane

Sheer Perfection

Shining Light and Blonn-Di

Short Fuse

Silver Berry

Silver Frames

Silver Streak

Slick Waiter Pony

Smart Cookie

Smiley Somnabulan

Smudge

Snobbish Waiter Pony

Solemn Canterlot Marshal

Sombraverse Applejack

Sombraverse Rainbow Dash

Spectator Pony

Spooky Dignitary

Steely Canterlot Marshel

Stern Canterlot Marshel

Swashbuckling Pirate

Swift Foot

Swishy-Haired Future Wonderbolt

Swoopy-Hair Future Wonderbolt

Tall Innkeeper

Terri Belle

Timbucktu Guardspony

Tracksulted Gangster Pony

Unlucky Pony

Violet-Maned Future Townspony

Wheat Grass

Wise Muffins

Yarn-Spinning Pirate

Young Fluttershy

Young Mayor Mare

Young Pinkie Pie

Young Rainbow Dash

Young Rarity

Zapp

Canterlot (151 Characters)

Canterlot Baker

Empress Trottingham

Sparkle Smudge

Zappityhoof

Sweet Apple Acres (129 Characters)

Burnt Oak

Cherry Blossom

Friendly Fairgoer

Future Apple Bloom

Future Sugar Belle

Grandpa Skies

Hayseed Swamp Mare

Hayseed Swamp Stallion

Mane Allgood

Mayor Sunny Skies

Moody Root

Pickle Barrel

Snap Shutter

Spur

Steela Oresdottir

Young Applejack

Young Burnt Oak

Young Rockhoof

Crystal Empire (56 Characters)

Duke of Maretonia

Princess Platinum

Serene Dignitary

Sombraverse Trooper

Stuffy Dignitary

Klugetown (40 Characters)
Unknown Location (6 Unknown & 43 Missing)

Camo Dash

E.W.H. Referee

Phony Pharaoh

Sneaky Pete

Steel Buns

Twilight Sneak-le

Other
Non-playable
Removed
Unimplemented/Unreleased

"

Bushel

"

Finish Line

"

Jonagold

"

Shadow Surprise
Click on the town you want and it will reveal the characters in that location (the new way for Show/Hide)