Lovestruck was added in the Hearts & Hooves Day 2013 update and lives in Lovestruck's House in Ponyville. She issued the Hearts & Hooves Day 2013 and 2014 quests; the final quest in these quest lines, "In Love With Ponyville", requires her to be welcomed. She shares Twilight Sparkle's design.
Cost
Lovestruck costs 600

when she first appeared but was dropped down to 360

in the Movie Time Update, and then again to 215

in the 2013 Christmas Update, before being changed to 30

in the 2014 Valentines Day Update and then changed back to 215

in the Crystal Mine Update. You can also win Lovestruck from The Equestria Girls mini-game
Special Animation
Lovestruck has a special animation which consists of small red floating hearts around her, and while talking with other ponies she might throw a kiss.
Collection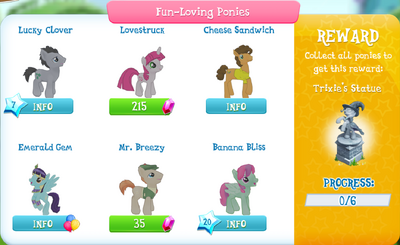 Gallery
Characters

‌

Mane Six (The Elements of Harmony)
Ponyville (588 Characters)
Canterlot (148 Characters)
Sweet Apple Acres (129 Characters)
Crystal Empire (51 Characters)
Klugetown (40 Characters)
Unknown Location (4 Unknown & 8 Missing)
Other
Non-playable
Removed
Unimplemented/Unreleased
Click on the town you want and it will reveal the characters in that location (the new way for Show/Hide)
Community content is available under
CC-BY-SA
unless otherwise noted.