Hyped-Up Dancer is an Earth pony mare who lives in Ponyville. She was added in update 3.7 along with Ecstatic Dancer and Athletic Dancer.
Collection
She is part of the collection Dancin' Fools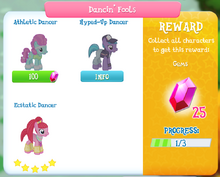 Characters

‌

Mane Six (The Elements of Harmony)
Ponyville (452 Characters)
Canterlot (144 Characters)
Sweet Apple Acres (111 Characters)
Crystal Empire (51 Characters)
Klugetown (40 Characters)
Other
Non-playable
Removed
Unimplemented/Unreleased
Community content is available under
CC-BY-SA
unless otherwise noted.