Hoity Toity

This fashionable pony knows a good dress when he sees one, especially the ones made by Rarity!
Playable
Yes
Level
12
Town
Ponyville
Arrival Bonus
30
House
Trendsetter's House
Minigame Timer
90m(1h 30m)
Minigame Skip
3

Cost/Prize

70
Equestria Girls
Hoity Toity
is a very important pony in the field of fashion. He lives in
Hoity Toity's House
in
Ponyville
.
Cost
Hoity Toity must be cost 70

but in the first nine versions of the game if the social networks was switched off, you could purchase him for 9,600

.
Collection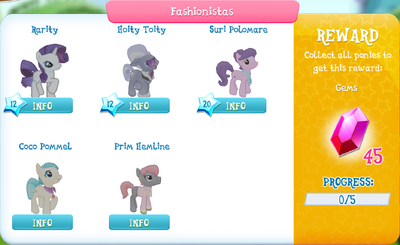 Characters

‌

Mane Six (The Elements of Harmony)
Ponyville (483 Characters)
Canterlot (144 Characters)
Sweet Apple Acres (112 Characters)
Crystal Empire (51 Characters)
Klugetown (40 Characters)
Unknown Location(6 Characters)
Other
Non-playable
Removed
Unimplemented/Unreleased
Community content is available under
CC-BY-SA
unless otherwise noted.