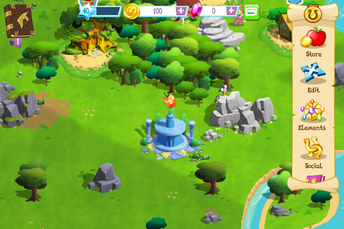 Harmony Stones
are ruins placed around
Ponyville
. They represent each of the 6
Elements of Harmony
. The main goal of the
Game
is to unlock and activate all 6
Harmony Stones
to make your friendship stronger and defeat the darkness that
Nightmare Moon
has casted on
Ponyville
.
Harmony Stones
cannot be moved.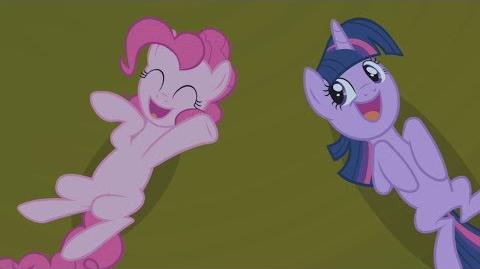 Activating the Stones
To activate a Harmony Stone, you must first unlock the area that the Harmony Stone is located in. You must then spend Element Shards that correlate to the Harmony Stone to activate them. The prices for the Shrine are as follows:
Harmony Stones data
After a Harmony Stone is activated, you are able to spend Element Shards on the Harmony Stone for additional Bits and rare Gems. You will receive random amounts of bits, the most common amount being 0.
Laughter
Shard Amount
Nothing Chance
Bit Chance
Bit Amount
Gem Chance
Gem Amount
1
50%
50%
1 –10
0%
0
10
50%
50%
50 –100
0%
0
100
0%
90%
500 –1,000
10%
1
1,000
0%
50%
2,000 –4,000
50%
1
Honesty
Shard Amount
Nothing Chance
Bit Chance
Bit Amount
Gem Chance
Gem Amount
1
50%
50%
2 –20
0%
0
10
50%
50%
100 –150
0%
0
100
0%
80%
1,000 –1,500
20%
1
1,000
0%
0%
2,000 –6,000
100%
1
Generosity
Shard Amount
Nothing Chance
Bit Chance
Bit Amount
Gem Chance
Gem Amount
1
50%
50%
3 –30
0%
0
10
50%
50%
150 –200
0%
0
100
0%
75%
2,000 –2,500
25%
1
1,000
0%
0%
6,000 –8,000
100%
1
Kindness
Shard Amount
Nothing Chance
Bit Chance
Bit Amount
Gem Chance
Gem Amount
1
50%
50%
5 –50
0%
0
10
50%
50%
250 –300
0%
0
100
0%
70%
3,000 –3,500
30%
1
1,000
0%
0%
10,000 –12,000
100%
1
Loyalty
Shard Amount
Nothing Chance
Bit Chance
Bit Amount
Gem Chance
Gem Amount
1
50%
50%
5 –50
0%
0
10
50%
50%
250 –300
0%
0
100
0%
65%
3,000 –3,500
35%
1
1,000
0%
0%
10,000 –12,000
100%
1
Magic
Shard Amount
Nothing Chance
Bit Chance
Bit Amount
Gem Chance
Gem Amount
1
50%
50%
6 –60
0%
0
10
50%
50%
350 –400
0%
0
100
0%
60%
4,000 –4,500
40%
1
1,000
0%
0%
12,000 –14,000
100%
1