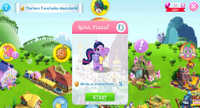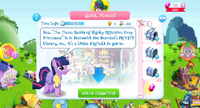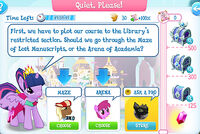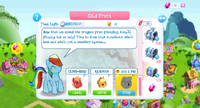 Group Quests are quests that you have a limited amount of time to complete. You can use different amounts of characters to get higher bonuses and each tier has a higher requirement to get the 100% bonus and has a higher minimum requirement to even be able to participate in it.
There are three tiers of rewards you can get Silver, Gold and Diamond. Choosing the correct option gets you more points. By asking a Pro, you can get a guaranteed correct answer with a higher reward, thus removing the risk factor in choosing the answer with the lowest points. The pros are random characters that can appear in the shop via Gem

Bundles. You will get 3 rewards from the chest you earn and if you get the top prize, a pony will be a guaranteed prize. If you earn gems, you earn 3 gems. The more quests there are, the longer timeframe there is with some taking a minimum of 8 hours to 20 hours. Watching ads to reduce time by one hour is available to do ten times just like watching for free gems

 .
Just like completing a task, once characters are assigned to a quest, they cannot play Minigames or go on tasks. Players has the option to substitute characters if they tap on the character's task in their album. This does not apply to Pony Editor as you can edit as normal.
WARNING: Sending characters on group quest prevents them from completing mega event quests or community event. Be sure to have some characters available in an event they're needed.
Rewards
Pro Characters Bundles
Fixed Pro Characters
Group Quest Outcome Breakpoints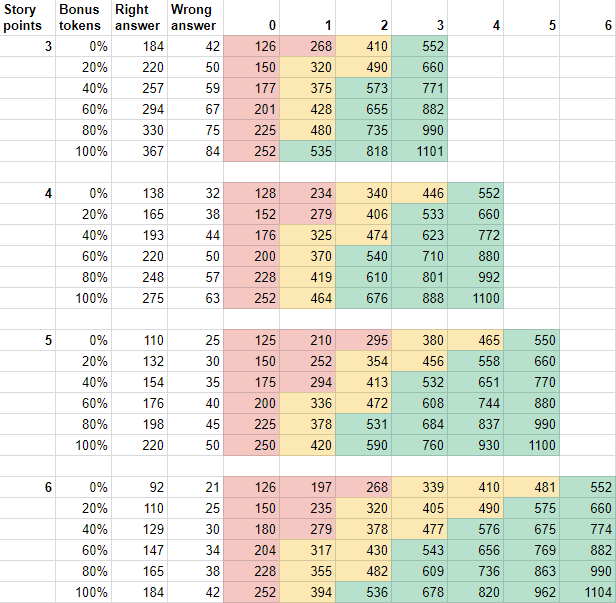 See also