Granny Smith

Grandmother of Applejack, Apple Bloom and the whole Apple clan, Granny Smith is one pony who puts family first! (...But apples are a close second, of course!)
Playable
No
Level
9
Town
Sweet Apple Acres
Arrival Bonus
500
House
Sweet Apple Homestead

Cost/Prize

405
Granny Smith is Big McIntosh's, Applejack's, and Apple Bloom's grandmother. She was added in the Sweet Apple Acres update. Like the princesses, she starts out with 5 stars and thus cannot play minigames except the Minecart minigame due to old age.
Before the update, Gameloft released an image of renders of a model for her in November 2012. She is also mentioned in english.loc, in the arrival message STR_PONY_GRANNYSMITH_ARRIVAL ("Granny Smith has arrived in Ponyville!") and the play message STR_PONY_GRANNYSMITH_PLAY ("Granny Smith is ready to play!").
Collection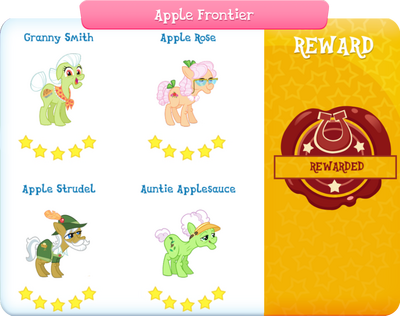 Characters

‌

Mane Six (The Elements of Harmony)
Ponyville (588 Characters)
Canterlot (148 Characters)
Sweet Apple Acres (129 Characters)
Crystal Empire (51 Characters)
Klugetown (40 Characters)
Unknown Location (4 Unknown & 8 Missing)
Other
Non-playable
Removed
Unimplemented/Unreleased
Click on the town you want and it will reveal the characters in that location (the new way for Show/Hide)
Community content is available under
CC-BY-SA
unless otherwise noted.