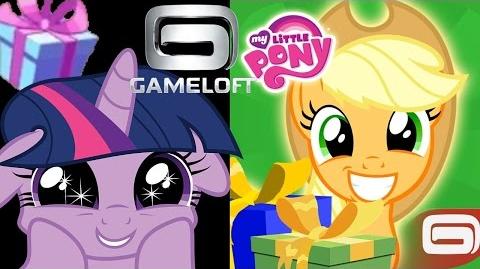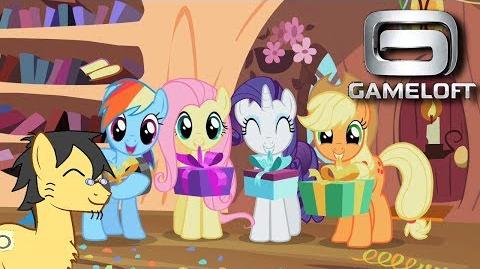 Promotional Gift Codes are offered from time to time on the MLP Gameloft Facebook Fan Page, Instagram Page, E-mails, or in-game pop-ups.
To redeem a code, tap the XP bar in the upper-left corner, then tap the Gift Code button on the right. Prior to Update 3.5, the button can be found at the bottom of the Menu Scroll on the upper-right corner.
This article lists all current (if available) and previously (expired) Gift Codes issued. To discover new Gift Codes as they are published, follow the Official Gameloft Sources linked below.
The community is encouraged to provide newly available Gift Codes in the comments below. Thank you!
However, please do not put in Gift Codes that you want to be real as only those made by Gameloft will work, and do not change the reward they give UNLESS what has been put there is not correct.

Gift Codes
NOTE: All active Gift Codes can only be used once, after which it becomes as unusable as an expired Gift Code. The player cannot receive the Gift Code's rewards again after its rewards have been already given.
Last updated: Monday February 8th 2019.
| | Prize | Status / Expiration Year |
| --- | --- | --- |
| ACADEMY | 20 | ACTIVE |
| CELEBRATION | 20 | ACTIVE |
| SNOWFLAKE | 20 | EXPIRED 2019 |
| PRESENTS | 20 | EXPIRED 2019 |
| REINDEER | 20 | EXPIRED 2019 |
| PONYRACE | 20 | EXPIRED 2018 |
| YOUNGSIX | 20 | EXPIRED 2018 |
| SMOLDER | 20 | EXPIRED 2018 |
| DRAGONCOSTUME | Dragon Costume | EXPIRED 2018 |
| PONYCHALLENGE | 20 | EXPIRED 2018 |
| SILENCE | 20 | EXPIRED 2018 |
| WHEELS | 3 | EXPIRED 2018 |
| 100HEARTS | 100 | EXPIRED 2018 |
| 6ANNIVERSARY | 10 | EXPIRED 2018 |
| SAPPHIRESTAND | Sapphire Stand | EXPIRED 2018 |
| BITS | 100,000 | EXPIRED 2018 |
| GETRIBBONS | 10 | EXPIRED 2018 |
| SPOOKYAPPLE | 20 | EXPIRED 2018 |
| PUMPKIN | 20 | EXPIRED 2018 |
| HOPE | 20 | EXPIRED 2018 |
| MIRROR | 20 | EXPIRED 2018 |
| STUDENTS | 20 | EXPIRED 2018 |
| WINGS | 20 | EXPIRED 2018 |
| CATS | 20 | EXPIRED 2018 |
| CLOVER | 20 | EXPIRED 2018 |
| INLOVE | 20 | EXPIRED 2018 |
| HEARTS | 20 | EXPIRED 2018 |
| SNOW | 20 | EXPIRED 2018 |
| WINTER | Gingerbread House | EXPIRED 2018 |
| WINDIGO | 20 | EXPIRED 2018 |
| HAPPY | 20 | EXPIRED 2017 |
| BIRTHDAY | Lavish Dessert Table | EXPIRED 2017 |
| TRICKORTREAT | Candy Spiderweb | EXPIRED 2017 |
| CAPPER | 20 | EXPIRED 2017 |
| KLUGETOWN | 20 | EXPIRED 2017 |
| SHADOW | 20 | EXPIRED 2017 |
| TEMPEST | 20 | EXPIRED 2017 |
| STORM | 20 | EXPIRED 2017 |
| SONGBIRD | 20 | EXPIRED 2017 |
| FRIENDSHIP | 20 | EXPIRED 2017 |
| FESTIVAL | 20 | EXPIRED 2017 |
| MLPMOVIE | Lazy Fan | EXPIRED 2017 |
| CUTIEMARK | 20 | EXPIRED 2017 |
| CRUSADERS | 20 | EXPIRED 2017 |
| THANKSEVERYPONY | 20 | EXPIRED 2017 |
| THORAX | 20 | EXPIRED 2017 |
| KINGDOM | 20 | EXPIRED 2017 |
| ADVENTURE | 20 | EXPIRED 2017 |
| SPRING | 20 | EXPIRED 2017 |
| EXPLORE | 20 | EXPIRED 2017 |
| WELOVEMLPPLAYERS | Heart Fountain | EXPIRED 2017 |
| HAPPYHOLIDAYS | Brewing Stand | EXPIRED 2016 |
| MLPANNIVERSARY | Cotton Candy Colt | EXPIRED 2016 |
| NIGHTMARENIGHT | 10 | EXPIRED 2016 |
| NIGHTMARENIGHTMLP | 10 | EXPIRED 2016 |
| CRYSTALFB | 5 | EXPIRED 2016 |
| CRYSTALS | 5 | EXPIRED 2016 |
| EMPIRE | 10 | EXPIRED 2016 |
| RARA | 5 | EXPIRED 2016 |
| GIVEBOW | 3 | EXPIRED 2016 |
| MLP20UPDATES | Disco Dance Shop | EXPIRED 2016 |
| FRIENDFB | 10 | EXPIRED 2016 |
| FRIENDIG | 10 | EXPIRED 2016 |
| FASHION | 3 | EXPIRED 2016 |
| GIVEPIN | 5 | EXPIRED 2016 |
| BUTTONS | 3 | EXPIRED 2016 |
| TWINEFB | 1 | EXPIRED 2016 |
| ILOVEMLP | 5 | EXPIRED 2016 |
| TOMO | 5 | EXPIRED 2016 |
Official Gameloft Sources