Frederick Horseshoepin
is a piano playing pony who lives in
Classical Chateau
in
Canterlot
. His name is a reference to the famous Polish composer
Frédéric Chopin
.
He used to cost 18,000

but became an exclusive reward for Equestria Girls

.
Balloon Pop
Collection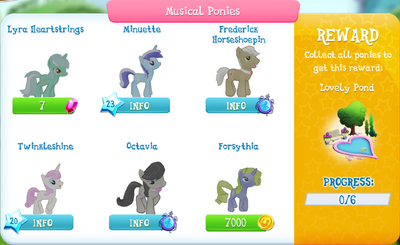 Characters

‌

Mane Six (The Elements of Harmony)
Ponyville (452 Characters)
Canterlot (144 Characters)
Sweet Apple Acres (111 Characters)
Crystal Empire (51 Characters)
Klugetown (40 Characters)
Other
Non-playable
Removed
Unimplemented/Unreleased
Community content is available under
CC-BY-SA
unless otherwise noted.