Four Step

Four Step was born to dance! So if you need help with your horsetrot, hip-hoof of Melbourne Cup Shuffle, she's the pony for you!
Playable
Yes
Level
29
Town
Canterlot
Arrival Bonus
65
House
Four Step's Parlor
Minigame Timer
260m (4h 20m)
Minigame Skip
7

Cost/Prize

Event Prize
340
Royal Balloon Pop
Four Step is a dancer unicorn who lives in Four Step's Parlor in Canterlot. She was added in the Everfree Forest update.
She can be won from Gem Balloon Pop.
Balloon Pop
Collections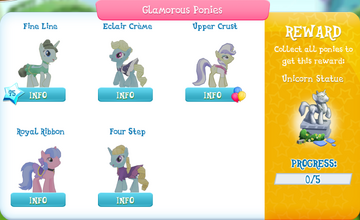 Gallery
Characters

‌

Mane Six (The Elements of Harmony)
Ponyville (564 Characters)
Canterlot (145 Characters)
Sweet Apple Acres (130 Characters)
Crystal Empire (51 Characters)
Klugetown (40 Characters)
Unknown Location (4)
Other
Non-playable
Removed
Unimplemented/Unreleased
Community content is available under
CC-BY-SA
unless otherwise noted.