Flam

A traveling salespony, Flam has a mustache and can be found running the Balloon Pop Stand with his brother Flim.
Playable
Yes
Level
1
Town
Ponyville
Arrival Bonus
60
House
Cider Machine
Minigame Timer
145m (2h 25m)
Minigame Skip
4

Cost/Prize

50
Equestria Girls
Flam
sells low quality cider with his twin brother
Flim
in
Ponyville
. He and Flim live in the
Cider Machine
and operate the
Balloon Pop Stand
, although they no longer appear there from
Update 4.2
onwards.
He and Flim also appear as announcers in the Events tab.
Cost
Flam costs 120

when the game was first released but was dropped down to 72

in the Movie Time Update and was later dropped down again to 50

in the 2013 Christmas Update. Flam has always cost 120

but in the first nine updates, of the game if the social networks was switched off, you could purchase him for 22,500

. This Glitch was disabled in the Sweet Apple Acres update.
Collection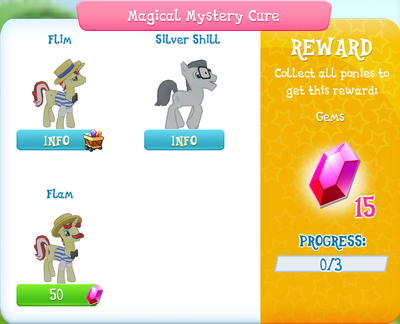 Characters

‌

Mane Six (The Elements of Harmony)
Ponyville (534 Characters)
Canterlot (145 Characters)
Sweet Apple Acres (123 Characters)
Crystal Empire (51 Characters)
Klugetown (40 Characters)
Unknown Location(N/A)

N/A

Other
Non-playable
Removed
Unimplemented/Unreleased
Community content is available under
CC-BY-SA
unless otherwise noted.