Fire Chief
is a unicorn filly dressed up as a firefighter for Nightmare Night, added in version 1.6 the
Nightmare Night update
.

About
"Fire Chief" is the in-game name for "Dinky Doo", who appears in the episode "Luna Eclipsed" dressed in the firefighter outfit. She lives in Canterlot Manor with Emerald Gem, and was purchasable for 45,000

before moving to

.
Balloon Pop
Collection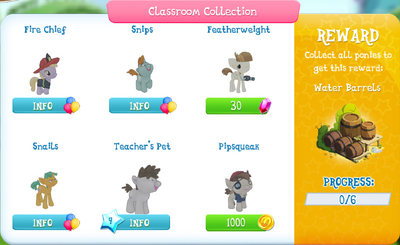 Gallery
Characters

‌

Mane Six (The Elements of Harmony)
Ponyville (506 Characters)
Canterlot (144 Characters)
Sweet Apple Acres (114 Characters)
Crystal Empire (51 Characters)
Klugetown (40 Characters)
Unknown Location(N/A)

N/A

Other
Non-playable
Removed
Unimplemented/Unreleased
Community content is available under
CC-BY-SA
unless otherwise noted.