Fine Line

Born and bred in Manehattan, Fine Line's nanny skills and street smarts put her furlongs above the rest!
Playable
Yes
Level
95
Town
Canterlot
Arrival Bonus
100
House
Fine Line's Mansion
Minigame Timer
350m (5h 50m)
Minigame Skip
9

Cost/Prize

550,000
Royal Balloon Pop
Fine Line
is an unicorn pony who lives in
Fine Line's Mansion
in
Canterlot
. She was added in the
Everfree Forest update
.
Fine Line is the first pony with a score bonus each stars for the Special Clear Skies minigame other than the Mane Six for the Equestria Girls mini-game.
Balloon Pop
↑

During a collection promo or a What's Hot, she becomes Rare.
Collections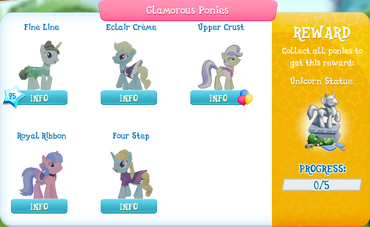 Characters

‌

Mane Six (The Elements of Harmony)
Ponyville (450 Characters)
Canterlot (142 Characters)
Sweet Apple Acres (110 Characters)
Crystal Empire (51 Characters)
Klugetown (40 Characters)
Other
Non-playable
Removed
Unimplemented/Unreleased
Community content is available under
CC-BY-SA
unless otherwise noted.