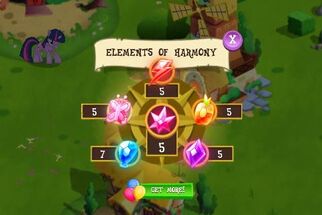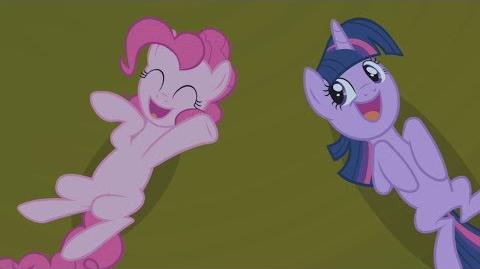 The Element Shards are fragments of the Elements of Harmony, used to activate the Harmony Stones and to defeat Parasprites, Changelings, Vampire Fruit Bats, Plunderseed Vines, Cragadiles, and King Sombra's Corruption. After a Harmony Stone is activated, Shards can continue to be used on it to award Bits

and, rarely, Gems

(in case of Kindness, Loyalty and Magic you receive 1 Gem per 200 shards, but you have to pay them all in one session, because if you logout the counter gets reset back to 0), defeating Parasprites, Changelings, Vampire Fruit Bats and King Sombra's Corruption also awards these.
Element Shards are obtained by collecting from shops, playing the Balloon Pop Mini Game and the Crystal Mine Game. Princess Celestia, Princess Luna, and King Sombra additionally rarely perform a special dance animation after being welcomed, after which one of each shard is generated. Laughter Shards are the most often collected shards, and Magic the least, though individual shops reward certain shards more often than others. 
Overview
* Note how the shards that represents a Mane Six member looks similar to their cutie marks.
Shop drop rates
| Shop | Max | Nothing | Laughter | Honesty | Generosity | Kindness | Loyalty | Magic |
| --- | --- | --- | --- | --- | --- | --- | --- | --- |
| Windmill | 2 | 1,000 | 2,000 | 0 | 0 | 0 | 0 | 30 |
| Cherry Stand | 2 | 500 | 1,100 | 150 | 40 | 30 | 20 | 25 |
| Lemon Stand | 2 | 500 | 1,200 | 150 | 40 | 30 | 20 | 10 |
| Bookstore | 3 | 1,000 | 100 | 1,100 | 100 | 100 | 100 | 25 |
| House of Hats | 3 | 100 | 100 | 1,200 | 100 | 100 | 100 | 10 |
| Corn Stand | 2 | 500 | 1,100 | 150 | 40 | 30 | 20 | 10 |
| Day Spa | 3 | 1,000 | 100 | 100 | 1,100 | 100 | 100 | 25 |
| Flower Shop | 3 | 1,000 | 100 | 100 | 1,200 | 100 | 100 | 25 |
| Mane Salon | 4 | 1,000 | 200 | 100 | 100 | 1,000 | 100 | 10 |
| Toy Shop | 5 | 100 | 100 | 100 | 100 | 1,100 | 100 | 10 |
| Asparagus Stand | 2 | 100 | 100 | 100 | 100 | 1,200 | 100 | 10 |
| Antique Shop | 4 | 100 | 100 | 100 | 100 | 100 | 1,000 | 10 |
| Ice Cream Shop | 2 | 500 | 1,100 | 150 | 40 | 30 | 20 | 10 |
| Restaurant | 3 | 1,000 | 100 | 100 | 100 | 100 | 1,100 | 10 |
| Bowling Alley | 3 | 1,000 | 100 | 100 | 100 | 100 | 1,200 | 25 |
| Schoolhouse | 3 | 1,000 | 100 | 100 | 600 | 500 | 100 | 25 |
| Café | 3 | 700 | 1,200 | 300 | 700 | 150 | 50 | 10 |
| Joke Shop | 4 | 150 | 100 | 100 | 100 | 600 | 300 | 25 |
| Quills and Sofas | 4 | 200 | 20 | 700 | 100 | 100 | 300 | 50 |
| Hospital | 5 | 0 | 50 | 50 | 20 | 150 | 500 | 200 |
| Town Hall | 5 | 0 | 50 | 50 | 20 | 150 | 500 | 200 |
| Canterlot Cafe | 3 | 1,000 | 100 | 100 | 1,000 | 100 | 100 | 50 |
| Pizzeria | 3 | 700 | 1,200 | 300 | 700 | 150 | 50 | 30 |
| Observatory | 5 | 0 | 50 | 50 | 20 | 150 | 500 | 200 |
| Donut Shop | 4 | 150 | 100 | 100 | 100 | 600 | 300 | 75 |
| Royal Conservatory | 4 | 200 | 20 | 700 | 100 | 100 | 300 | 100 |
| Canterlot Gift Shop | 4 | 100 | 200 | 200 | 200 | 200 | 200 | 200 |
| Canterlot Decoration Station | 3 | 250 | 100 | 200 | 250 | 150 | 75 | 50 |
| Apple Stand | 2 | 1,000 | 100 | 1,000 | 100 | 100 | 100 | 10 |
| Carrot Farm | 3 | 1,000 | 100 | 100 | 1,000 | 100 | 100 | 25 |
| Apple Market Cart | 3 | 500 | 180 | 25 | 25 | 25 | 25 | 180 |
| Grape Stand | 3 | 150 | 100 | 100 | 100 | 500 | 50 | 20 |
| Zap Apple Stand | 3 | 350 | 200 | 200 | 500 | 200 | 100 | 10 |
| Orange Stand | 3 | 60 | 15 | 15 | 120 | 15 | 50 | 25 |
| Pumpkin Patch | 2 | 50 | 20 | 50 | 20 | 20 | 100 | 5 |
Resources

‌
Ingredients