Double Diamond

With diamonds as his cutie mark, Double Diamond is double AWESOME!
Playable
Yes
Level
26
Town
Canterlot
Arrival Bonus
80
Residence
Cutie Castle
Minigame Timer
180m (3h)
Minigame Skip
5

Cost/Prize

250
Royal Balloon Pop
Double Diamond is an earth pony who lives in Cutie Castle in Canterlot. He was released as part of the v2.5 update.
Double Diamond was introduced as a prize in the Balloon Pop

, but was later added to the shop at a cost of 360
.
Errors
Contrary to his album description, Double Diamond's cutie mark is actually three snowflakes. His name instead refers to the expert difficulty level of ski trails in North America.
Balloon Pop
Collection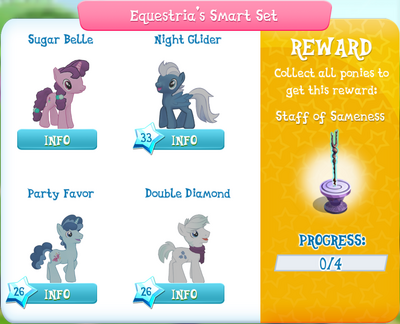 Gallery
Characters

‌

Mane Six (The Elements of Harmony)
Ponyville (719 Characters)

Admiral Fairweather

Admiral Fairy Flight

Ancient Vagabond

Anti-Sugar Drummer

Anti-Sugar Pamphleteer

Anti-Sugar Pinkie Pie

Avant-Garde Soirée Goer

Bearded Hollowvian

Bellhop Pony

Big Bucks

Bird Whisperer Pony

Blush-Pink Townspony

Blueberry Curls

Blue Bobbin

Braid-Maned Schoolpony

Brusque Innkeeper

Candlemaker Reenactor Pony

Captain Hoofbeard

Cardsharp Pirate

Chancellor Puddinghead

Changelingverse Fluttershy

Changelingverse Pinkie Pie

Chatty Friendship Student

Chic Soirée Goer

Chipper Hallowvian

Chummy Friendship Student

Chupacabra

Cirrus Cloud

Classy Timbucktu Resident

Cleopatrot's Mummy

Clover the Clever

Coiffed Waiter Pony

Colonel Purple Dart

Comic Writer Pony

Commander Hurricane

Cool Soirée Goer

Corsaged Gangster Pony

Cutting-Edge Shop-Pony

Dapper Prairie Dog Trainer

Dashing Prairie Dog Trainer

Decepticolt

Determined Shopper

Diamante Elegante

Dignified Shop-Pony

Distemper

Distinguished Waiter Pony

Dr. Sacks Roamer

Drinkie Pie

Editor-in-Chief Pony

Elderly Innkeeper

Emperor Incitatus

Essence Salespony

Fauxlestia's Guard

Flax Seed

Flight Suit Star Hunter

Francesco

Friendly Sheep

Friendly Timbucktu Resident

Future Applejack

Future Bon Bon

Future Lyra Heartstrings

Future Muffins

Future Pinkie Pie

Future Rainbow Dash

Future Rarity

Future Silver Spoon

Future Starlight Glimmer

Future Sunburst

Future Twist

General Dauntless

General Firefly

General Flash

Gladmane

Glider Rumble

Goldcap

Gold-Toothed Pirate

Grand Stage Sapphire Shores

Grizzled Old Wonderbolt

Hefty Resortgoer

Heiress Reenactor Pony

Heritage Baker Pony

High Heel

History Museum Director

Hoo'Far

Hum Drum

Ice Witch

Inquisitive Shopper

Iron Hock

Jack Pot

Jade Singer

Jagged Clamp

Jumbo Don

Kibitz

King Diomedes

King Orion

Knowledgeable Shopper

Las Pegasus Showponies

Las Pegasus Singer

Lilac Sky

Long-Face

Loyalist Reenactor Pony

Lunaverse Rainbow Dash

Lunaverse Rarity

Mage Meadowbrook's Mom

Magenta Townspony

Mama's Colt Pirate

Masked Pony Gangster

Mayor Blossom

Medley Brook

Midnight Strike

Mirror-Universe Big Mac

Mirror-Universe Cadance

Mirror-Universe Granny Smith

Mirror-Universe Pony of Shadows

Mirror-Universe Shining Armor

Mirror Universe Stygian

Ms. Conductor

Mystery Mare

Nearsighted Future Ponyville Citizen

Neat-Maned Townspony

Neigh Sayer

Nightmare Applejack

Nightmare Pinkie Pie

Nightmare Rainbow Dash

Nurse Neightingale

Oak Nut

Old Wizard

Outdoorsy Somnabulan

Pampadoured Future Wonderbolt

Pegasus Courier

Peppy Friendship Student

Peppy Resortgoer

Perceptive Friendship Student

Periwinkle Townspony

Pinstriped Gangster Pony

Poné Fantastique Aerialist

Poné Fantastique Director

Poné Fantastique Manager

Poofy-Haired Future Wonderbolt

Private Pansy

Pursey Pink

Queen Parabola

Queen Trottingham

Ragamuffin

Rainbow Dash Fanpony

Revolutionary Reenactor Pony

Roadwings the Awesome

Rolling Thunder

Romantic Pirate

Runway Model

Russet-Maned Future Townspony

Scoop

Screwy

Seafoam Townspony

Shadesy Townspony

Shadowmane

Shady Resortgoer

Sheer Perfection

Shining Light and Blonn-Di

Short Fuse

Silent Magician Pony

Silver Berry

Silver Frames

Silver Streak

Skeptical Magician Pony

Skeptical Old Wonderbolt

Slick Waiter Pony

Smart Cookie

Smiley Somnabulan

Smudge

Snobbish Waiter Pony

Sombraverse Applejack

Sombraverse Rainbow Dash

Speedy Old Wonderbolt

Spectator Pony

Spooky Dignitary

Steely Canterlot Marshel

Stern Canterlot Marshel

Sunny Resortgoer

Super Chef Announcer

Swamp Monster

Swashbuckling Pirate

Swift Foot

Swishy-Haired Future Wonderbolt

Swoopy-Hair Future Wonderbolt

Tacky Resortgoer

Tall Innkeeper

Terri Belle

Tight Ship

Timbucktu Guardspony

Tortoise Racing Pony

Tracksulted Gangster Pony

Unlucky Pony

Violet-Maned Future Townspony

Wheat Grass

Wind Sock

Winter Comet

Wise Muffins

Yarn-Spinning Pirate

Young Dauntless

Young Fluttershy

Young Pinkie Pie

Young Rainbow Dash

Young Rarity

Canterlot (177 Characters)

Big Angie

Blade Sparxx

Boulder

Bright Bridle

Danu

Double Diamond

Empress Trottingham

Morrigan

Ornithian Noble

Ornithian Officiant

Prince Huginn

Sparkle Smudge

Summer van der Hoof

Super Chef Judge

Toffee Truffle

Touring Wind

Vermouth Roux

Zappityhoof

Sweet Apple Acres (166 Characters)

Apple Crisp

Bandana-Lovin' Rustler

Black-and-White Rustler

Blazing Saddle

Bright Mac

Burnt Oak

Canter Creek Camper

Canter Creek Cardplayer

Canter Creek Cowpony

Canter Creek Farmpony

Canter Creek Greengrocer

Canter Creek Handypony

Canter Creek Mushmouth

Canter Creek Prospector

Canter Creek Ranchpony

Canter Creek Townspony

Cherry Blossom

Friendly Fairgoer

Future Apple Bloom

Future Sugar Belle

Ginger Gold

Grandpa Skies

Hayseed Swamp Mare

Hayseed Swamp Stallion

Longhorn

Longhorn's Goat

Mayor Sunny Skies

Moody Root

Mustachioed Rustler

Pear Butter

Pickle Barrel

Postmaster Buckeye

Russet Rustler

Sassy Parilla

Sheriff Tumbleweed

Snap Shutter

Spur

Steela Oresdottir

Telegram Pony

Western Fluttershy

Western Pinkie Pie

Western Rainbow Dash

Western Rarity

Western Twilight Sparkle

Young Applejack

Young Applesauce

Young Apple Rose

Young Bright Mac

Young Golden Delicious

Young Grand Pear

Young Granny Smith

Young Pear Butter

Young Rockhoof

Crystal Empire (56 Characters)

Duke of Maretonia

Princess Platinum

Serene Dignitary

Sombraverse Trooper

Stuffy Dignitary

Klugetown (40 Characters)
Unknown Location (7 Unknown & 15 Missing)

Camo Dash

E.W.H. Referee

Phony Pharaoh

Roku Chan

Sneaky Pete

Steel Buns

Twilight Sneak-le

Other
Non-playable
Removed
Unimplemented/Unreleased

"

Bushel

"

Finish Line

"

Jonagold

"

Shadow Surprise
Click on the town you want and it will reveal the characters in that location (the new way for Show/Hide)