Diamond Tiara

The daughter of Filthy Rich, Diamond Tiara is a pretentious pony who usually gets what she deserves
Playable
Yes
Level
1
Town
Ponyville
Arrival Bonus
35
House
Rich Family Mansion
Minigame Timer
110m(1h 50m)
Minigame Skip
3

Cost/Prize

Traveling Pony
250
Royal Balloon Pop
Equestria Girls
Diamond Tiara is the daughter of Filthy Rich and Spoiled Rich and also the former rival of the Cutie Mark Crusaders. She lives in Filthy Rich's Mansion. She is voiced by Chantal Strand in the original English dub, who also voiced her mother Spoiled Rich.
Diamond Tiara was one of the characters available in the beta version of My Little Pony presented at My Little Pony Project 2012 New York, at a cost of 150

.
Diamond Tiara also appeared in the Golden Horseshoe Hotel in update 4.1.
Cost
In the first version of the game, Diamond Tiara cost 35

, but her price was lowered to 25

in the Movie Time Update. It was lowered again, to 18

, in the Hearth's Warming Eve Extended update, but in a Bugfix update she gets to be obtained in the Balloon Pop

. Right now, she costs 250

(as of the Feb 2020 update). Diamond Tiara has always cost 35

but in the first nine updates, of the game if the social networks was switched off, you could purchase her for 16,400

.
Balloon Pop
Collection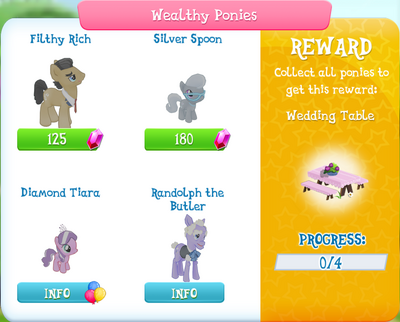 Gallery
Characters

‌

Mane Six (The Elements of Harmony)
Ponyville (588 Characters)
Canterlot (148 Characters)
Sweet Apple Acres (129 Characters)
Crystal Empire (51 Characters)
Klugetown (40 Characters)
Unknown Location (4 Unknown & 8 Missing)
Other
Non-playable
Removed
Unimplemented/Unreleased
Click on the town you want and it will reveal the characters in that location (the new way for Show/Hide)
Community content is available under
CC-BY-SA
unless otherwise noted.