Daring Do
is a pegasus adventurer. She lives in
Ancient Ziggurat
.
Daring Do was one of the characters available in the beta version of My Little Pony presented at My Little Pony Project 2012 New York, at a cost of 40,000

.
Cost
Daring Do must be won from Balloon Pop but in the first two versions of the game if the wifi is switched off, you could purchase her for 40,000

Balloon Pop
Collection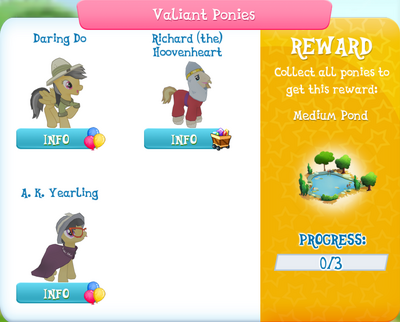 Gallery
Characters

‌

Mane Six (The Elements of Harmony)
Ponyville (506 Characters)
Canterlot (144 Characters)
Sweet Apple Acres (114 Characters)
Crystal Empire (51 Characters)
Klugetown (40 Characters)
Unknown Location(N/A)

N/A

Other
Non-playable
Removed
Unimplemented/Unreleased
Community content is available under
CC-BY-SA
unless otherwise noted.