Crescent Moon

Crescent Pony is the caretaker of the Wonderbolts and has a cresent moon for a cutie mark.
Playable
Yes
Level
3
Town
Ponyville
Arrival Bonus
40
House
Lovely House
Minigame Timer
115m(1h 55m)
Minigame Skip
3

Cost/Prize

28,800
Royal Balloon Pop
Equestria Girls
Crescent Pony
is the caretaker of the Wonderbolts. He lives in
Lovestruck's House
, and was added in the
Hearts and Hooves Day update
. In the game's internal code, the names "Crescent_Moon" and "PAPERMOON" are used to refer to him.
Errors
The word "crescent" in his album description is mistyped as "cresent".
Balloon Pop
Collection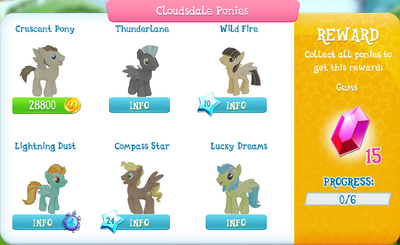 Gallery
Characters

‌

Mane Six (The Elements of Harmony)
Ponyville (564 Characters)
Canterlot (145 Characters)
Sweet Apple Acres (130 Characters)
Crystal Empire (51 Characters)
Klugetown (40 Characters)
Unknown Location (4)
Other
Non-playable
Removed
Unimplemented/Unreleased
Community content is available under
CC-BY-SA
unless otherwise noted.