Cookie Crumbles

Cookie Crumbles always dreamed of being a bride-to-be. With her white pants and cute frilly collar, she surely is one darling showstopper!
Playable
Yes
Level
1
Town
Ponyville
Arrival Bonus
70
House
Carousel Boutique
Minigame Timer
240m (4h)
Minigame Skip
6

Cost/Prize

Event Prize
200
Royal Balloon Pop
Cookie Crumbles is Rarity's and Sweetie Belle's mother and Hondo Flanks's wife. She lives in the Carousel Boutique with Rarity and her husband. She was added in the Bugfix update.
Cookie Crumbles was offered as a time-limited character along with Elite Pony on the 3rd day of Pony Reunion Week in October 26–27, 2014, at a discount of 40% (45

).
Cookie Crumbles is a light pink unicorn with a long, dark purple mane and tail with yellow earring. Her eyes are light blue, she wears red coat, white pants and her frilly collar with a yellow cockle at the middle. As their mother, Cookie Crumbles is a full-of-excitement mother who is sweet and caring mother. She is also loyal to her husband Magnum.
Balloon Pop
Collection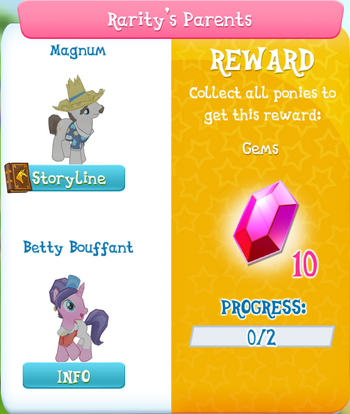 Gallery
Characters

‌

Mane Six (The Elements of Harmony)
Ponyville (588 Characters)
Canterlot (148 Characters)
Sweet Apple Acres (129 Characters)
Crystal Empire (51 Characters)
Klugetown (40 Characters)
Unknown Location (4 Unknown & 8 Missing)
Other
Non-playable
Removed
Unimplemented/Unreleased
Click on the town you want and it will reveal the characters in that location (the new way for Show/Hide)
Community content is available under
CC-BY-SA
unless otherwise noted.