Concierge Pony

You want to see DARING DO!? Don't make him laugh! This pony is just the convention hall staff!
Playable
Yes
Town
Canterlot
House
Upper Crust's Mansion

Cost/Prize

500
Concierge Pony is an earth pony stallion who lives in Canterlot.
Collection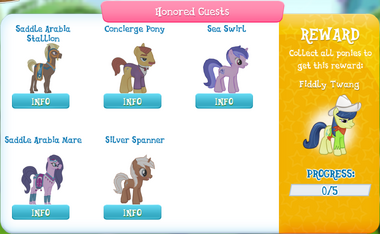 Characters

‌

Mane Six (The Elements of Harmony)
Ponyville (598 Characters)
Canterlot (148 Characters)
Sweet Apple Acres (129 Characters)
Crystal Empire (51 Characters)
Klugetown (40 Characters)
Unknown Location (5 Unknown & 11 Missing)
Other
Non-playable
Removed
Unimplemented/Unreleased
Click on the town you want and it will reveal the characters in that location (the new way for Show/Hide)
Community content is available under
CC-BY-SA
unless otherwise noted.