Coco Pommel

A talented seamstress inspiring the fashionistas of Equestria, Coco Pommel knows how to stirrup a buzz with her majestic dress designs!
Playable
Yes
Level
20
Town
Canterlot
Arrival Bonus
85
House
Coco Pommel's Boutique
Minigame Timer
290m (4h 50m)
Minigame Skip
8

Cost/Prize

Event Prize
400
Royal Balloon Pop
Coco Pommel is dressmaker earth pony who lives in Coco Pommel's Boutique in Canterlot. She was added in the Everfree Forest update.
Coco can appear as temporarily available Gem Balloon Pop reward.
Balloon Pop
Collection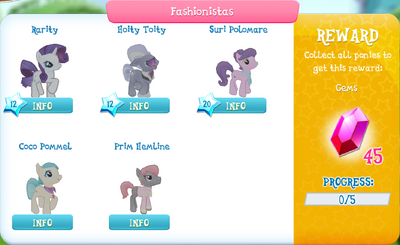 Gallery
Characters

‌

Mane Six (The Elements of Harmony)
Ponyville (588 Characters)
Canterlot (148 Characters)
Sweet Apple Acres (129 Characters)
Crystal Empire (51 Characters)
Klugetown (40 Characters)
Unknown Location (4 Unknown & 8 Missing)
Other
Non-playable
Removed
Unimplemented/Unreleased
Click on the town you want and it will reveal the characters in that location (the new way for Show/Hide)
Community content is available under
CC-BY-SA
unless otherwise noted.