Cloudy Quartz is Igneous Rock's wife and Pinkie Pie's, Marble Pie's, Maud Pie's, and Limestone Pie's mother. She lives with Igneous in The Pie Parents Home in Ponyville. She was added in the Sweet Apple Acres update.
She is referred to as Pinkiepies_Mom in the game files.
Collection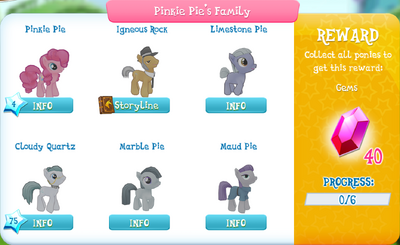 Characters

‌

Mane Six (The Elements of Harmony)
Ponyville (588 Characters)
Canterlot (148 Characters)
Sweet Apple Acres (129 Characters)
Crystal Empire (51 Characters)
Klugetown (40 Characters)
Unknown Location (4 Unknown & 8 Missing)
Other
Non-playable
Removed
Unimplemented/Unreleased
Click on the town you want and it will reveal the characters in that location (the new way for Show/Hide)
Community content is available under
CC-BY-SA
unless otherwise noted.