Cheerilee
is a teacher who lives in
Cheerilee's Barn
in
Sweet Apple Acres
. She is voiced by Nicole Oliver and randomly says "We have an important lesson to get to!"
Prior to the Sweet Apple Acres update, Cheerilee lived in Ponyville.
Cheerilee was one of the characters available in the beta version of My Little Pony presented at My Little Pony Project 2012 New York. She was shown walking around Ponyville.
Cost
Was 1,000

but was raised to 4,000

in the Sweet Apple Acres Update and is unlocked at Level 9 previously Level 2.
Balloon Pop
Collection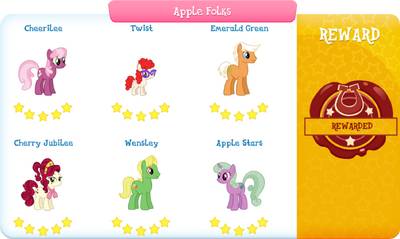 Gallery
Characters
‌
Mane Six (The Elements of Harmony)
Ponyville (395 Characters)
Canterlot (141 Characters)
Sweet Apple Acres (98 Characters)
Crystal Empire (48 Characters)
Klugetown (40 Characters)
Non-playable
Removed
Unimplemented/Unreleased