Challenge of the Sphinx event was released on April 6th, 2018 as part of Update 4.2 It is a continuous event of Somnambula Springtime. It was re-run on April 5th, 2019.
Community
Leaderboard #1
Time Limit:
6 Days
Assign Characters to complete tasks and earn: Pharaonic Crowns.
Prize 1 (1-100)
Prize 2 (101-500)
Prize 3 (501-1000)
The Get On Inn
Novice Archaeologist
27
20 (re-run)
Community Helpers
Boss Fight
(I Believe in Me!)
Boss Fight #2
(I Believe in Me!)
Boss Fight #3
(I Believe in Me!)
Boss stage #3
Guaranteed Reward

Prince Hisan

 

Sphinx (832HP)

Limited-Time Reward
Bold Archaeologist

Power

Time/Skip

Sphinx
Power: +23

34

2 hours 30 minutes
Time limit:
3D
44
Ending text
"This is the weirdest boss fight I've ever seen, but I am INTO it. Go, FLUTTERSHY, GO! BEAT THE SNOT OUTTA THOSE SELF-DOUBTS!"
Gallery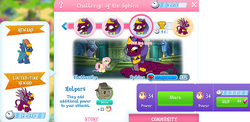 Community content is available under
CC-BY-SA
unless otherwise noted.