Bon Bon
or
Sweetie Drops
is the first pony available in the game aside from
Twilight Sparkle
. She lives in
Bon Bon's House
in
Ponyville
.
Bon Bon is a yellow-cream pony with three blue candy bows. Her eyes are turquoise, her mane and tail is curly pink and dark blue. She is a playable pony in the game.
See also
Collection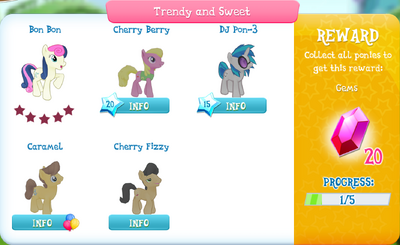 Characters

‌

Mane Six (The Elements of Harmony)
Ponyville (549 Characters)
Canterlot (145 Characters)
Sweet Apple Acres (129 Characters)
Crystal Empire (51 Characters)
Klugetown (40 Characters)
Unknown Location(9 & 11 Missing)
Other
Non-playable
Removed
Unimplemented/Unreleased
Community content is available under
CC-BY-SA
unless otherwise noted.