Babs Seed is Apple Bloom's cousin who lives in the Cutie Mark Crusaders Clubhouse in Sweet Apple Acres. She was added in the Sweet Apple Acres update. She is the younger sister of Sunflower.
Collection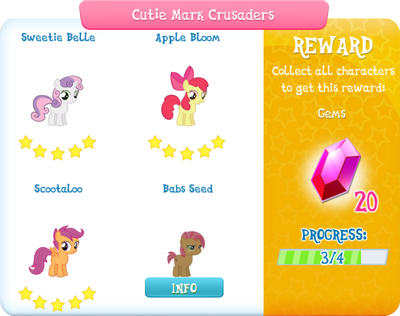 Gallery
Characters

‌

Mane Six (The Elements of Harmony)
Ponyville (483 Characters)
Canterlot (144 Characters)
Sweet Apple Acres (112 Characters)
Crystal Empire (51 Characters)
Klugetown (40 Characters)
Unknown Location(6 Characters)
Other
Non-playable
Removed
Unimplemented/Unreleased
Community content is available under
CC-BY-SA
unless otherwise noted.