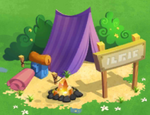 Amazing Adventures is where Mega Events and Limited-Time Stories pops up. It was added in Update 3.3 on February 8, 2017. Original Mega Events was just collecting tokens but after the Movie events started in Update 3.7, it became Limited-Time Story Mega Events which combines token collecting with quests.
Mega Events
Movie Events
You can only participate once in Movie Events. If you did one quest in the movie event, when it re-runs you will not be able to participate
Limited-Time Story
↑ The Re-Run of To Change a Changeling lasted for the same time as the first run and everyone (even if you did the event already) was able to participate.
Holiday Limited-Time Story
Gallery