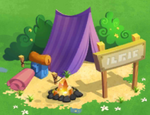 Amazing Adventures is where Mega Events and Limited-Time Stories pops up. It was added in Update 3.3 on February 8, 2017, replacing Limited Time Quests. Original Mega Events was just collecting tokens but after the Movie events started in Update 3.7, it became Limited-Time Story Mega Events which combines token collecting with quests.
Mega Events
Movie Events
You can only participate once in Movie Events. If you did one quest in the movie event, when it re-runs you will not be able to participate
Limited-Time Story
↑ The Re-Run of To Change a Changeling lasted for the same time as the first run and everyone (even if you did the event already) was able to participate.
Holiday Limited-Time Story
Blitz Events
Gallery
LTS Locations
Bonus tappable objects
In some LTSs, these objects can appear anywhere in the map. Tap them, and you will receive bonus Bits, Tokens, or Gems (rarely).
Trivia
If a previous Limited Time Quest occurs again, and you had already won a prize (such as a character, a shop, or a decoration), you will get 50 Gems in its place.
Some Limited-Time Stories use an alternative currency to upgrade a specific character's powers as they fight enemies. They are:

Siege of the Crystal Empire (Shadow Crystals for Sombra); School Raze (Magic Coins for Twilight Sparkle), Presentable in Periwinkle (Magic Coins for Young Shining Armor); and Cutie Re-Mark, Ponies of the Dark Water, and Nightmare Knights (Sapphires for Twilight Sparkle and several other characters)
See also
Community content is available under
CC-BY-SA
unless otherwise noted.